Altcoins Benefit from Bitcoin's Pause
By Alex Benfield on April 28, 2021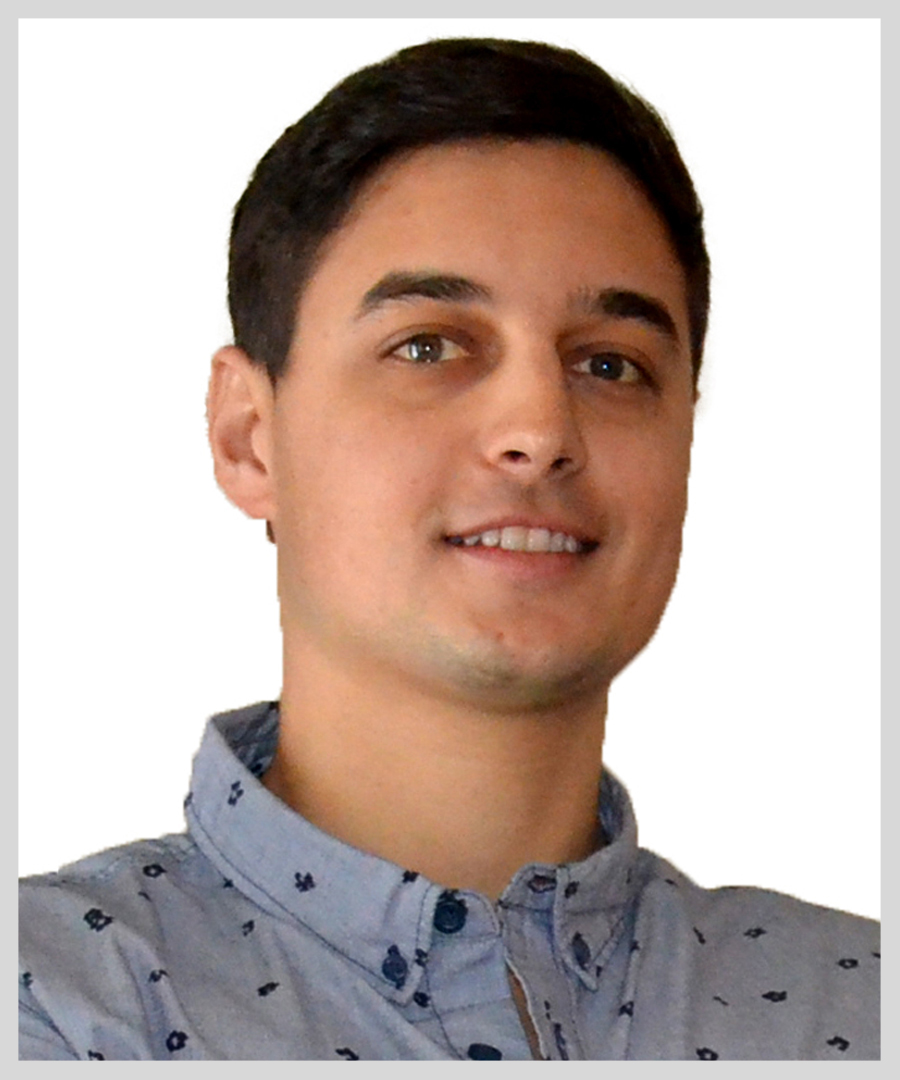 The King of Crypto is on the fence right now, but altcoins are moving decisively higher in the meantime.
• Bitcoin (BTC, Tech/Adoption Grade "A-") is still in between bull and bear targets, effectively trading in "no man's land."

• Dogecoin (DOGE, Tech/Adoption Grade "C+") is rising once again and looks to be breaking out on a medium-term time frame.

• Aave (AAVE) has roared back to life in April and is up more than 10% today.
Bitcoin's recovery has slowed today, as it's found tough resistance at $55,000. BTC is still trading below its 21-day moving average but is still up 10% from last weekend's lows, so it's stuck in a sort of middle ground as the bulls and bears fight for control.
Bitcoin has been trading somewhat sideways for a week or two now, action that has given life to altcoins. Money has flowed from BTC into some smaller plays.
Let's keep in mind that large corrections are common for Bitcoin during bull markets. Also, the current 15-day downshift is still short of the average correction duration of 20 days during the 2016-17 bull market. In fact, it wouldn't be surprising to see Bitcoin drop further from here before finding a bottom somewhere between $45,000 and $48,000.
An extended correction would shake out any leftover leverage and prepare Bitcoin for the next leg of its bull run.
Here's BTC in U.S. dollar terms via Coinbase Global, Inc. (Nasdaq: COIN):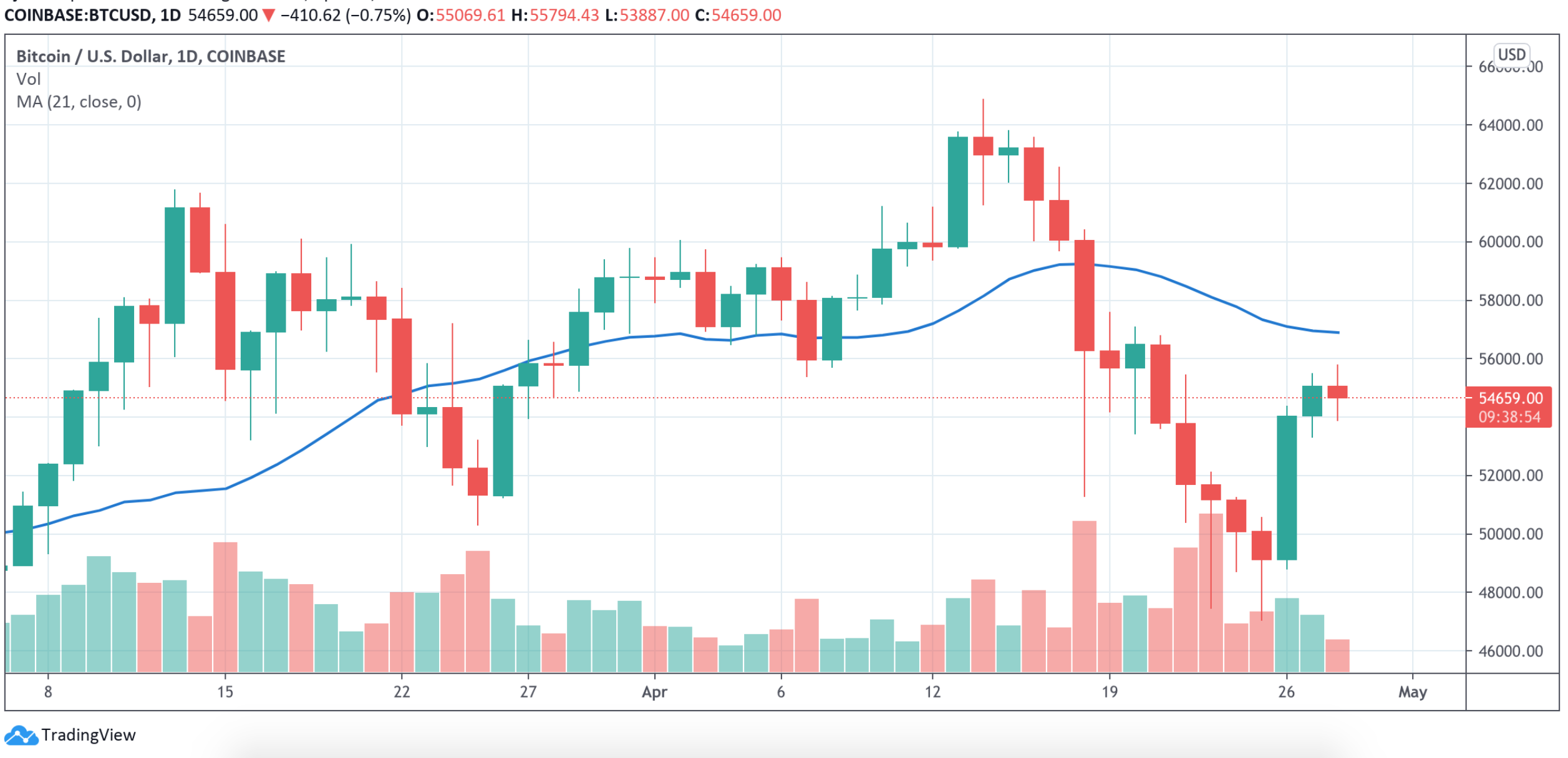 Dogecoin has been trading in a range between 25 cents and 30 cents for the past week or so, having found support at that 25-cent level. Today, it's breaking out, having touched all the way up to 35 cents before retracing to 30 cents.
This action could be due to Elon Musk's tweet about hosting "Saturday Night Live" that included a nod to Dogecoin. Whatever the catalyst, DOGE is still trading above its 21-day moving average and looks very much like it's in the midst of a larger breakout.
It's possible the meme coin might once again test all-time highs in the near future.
Here's DOGE in U.S. dollar terms via Binance: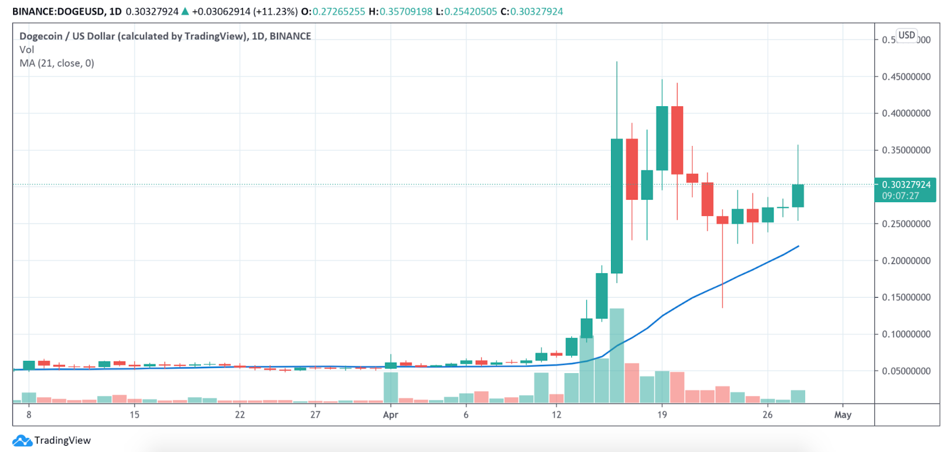 Aave had an amazing run earlier this year before a prolonged cooling-off period, though it seems to have woken up here in the past few weeks.
AAVE hit a high of around $580 on Coinbase on Feb. 10 before retracing to $300 by Feb. 23. Since then, it'd been trading between $300 and $400 before spiking to $485 in mid-April. But it slipped to $320 last weekend.
This week, AAVE has posted four straight green candles, rising all the way up to around $475 and looking ready to break out. This was one of the top performers in the early 2021 decentralized finance (DeFi) craze, and it could pick back up again here soon as altcoins really start to heat up.
Here's AAVE in U.S. dollar terms via Coinbase: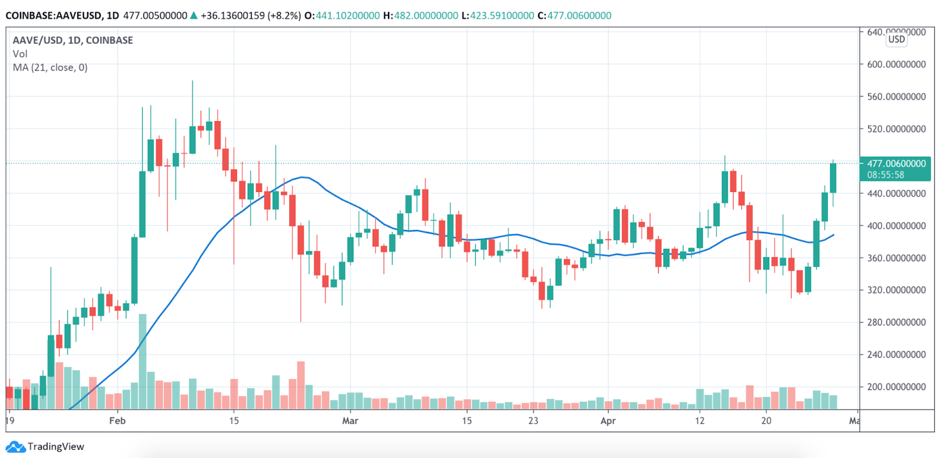 Notable News, Notes and Tweets
• Chris Burniske thinks Coinbase employees might have begun shifting capital to Ethereum (ETH, Tech/Adoption Grade "A-") to pair with growing institutional interest in the word's No. 2 crypto asset.

• Former Clemson quarterback and likely No. 1 pick in Thursday's NFL draft Trevor Lawrence expressed his desire to be paid in Bitcoin.

• Bitcoin Conference 2021 in Miami this June is going to be wild.
What's Next
Bitcoin might be heading for the more drawn-out consolidation period we've been waiting for since the start of 2021. A move down to $45,000 would put this correction right on the money at 30%, the largest retracement we've forecast.
A 30% retracement would be a healthy shakeout, marking a clear divide between the first and second yearlong bull cycles our model predicts. While we could see a few weeks or, perhaps, a few months of sideways trading following that correction, it would be the bright and obvious buying opportunity to load up for the second phase of the bull market.
Now, at the same time, this sideways BTC action has opened the doors for what could be the most exciting altseason ever. We're starting to see parabolic breakouts all over the market and in all kinds of sectors. Bullish signs abound.
Perhaps rallies like the one we've seen the last couple of months in Dogecoin might be common this altseason. Only time will tell, so stick with us.
Best,
Alex