Altcoins Pause To Refresh Amid More Bullish Macro Developments
By Alex Benfield on April 07, 2021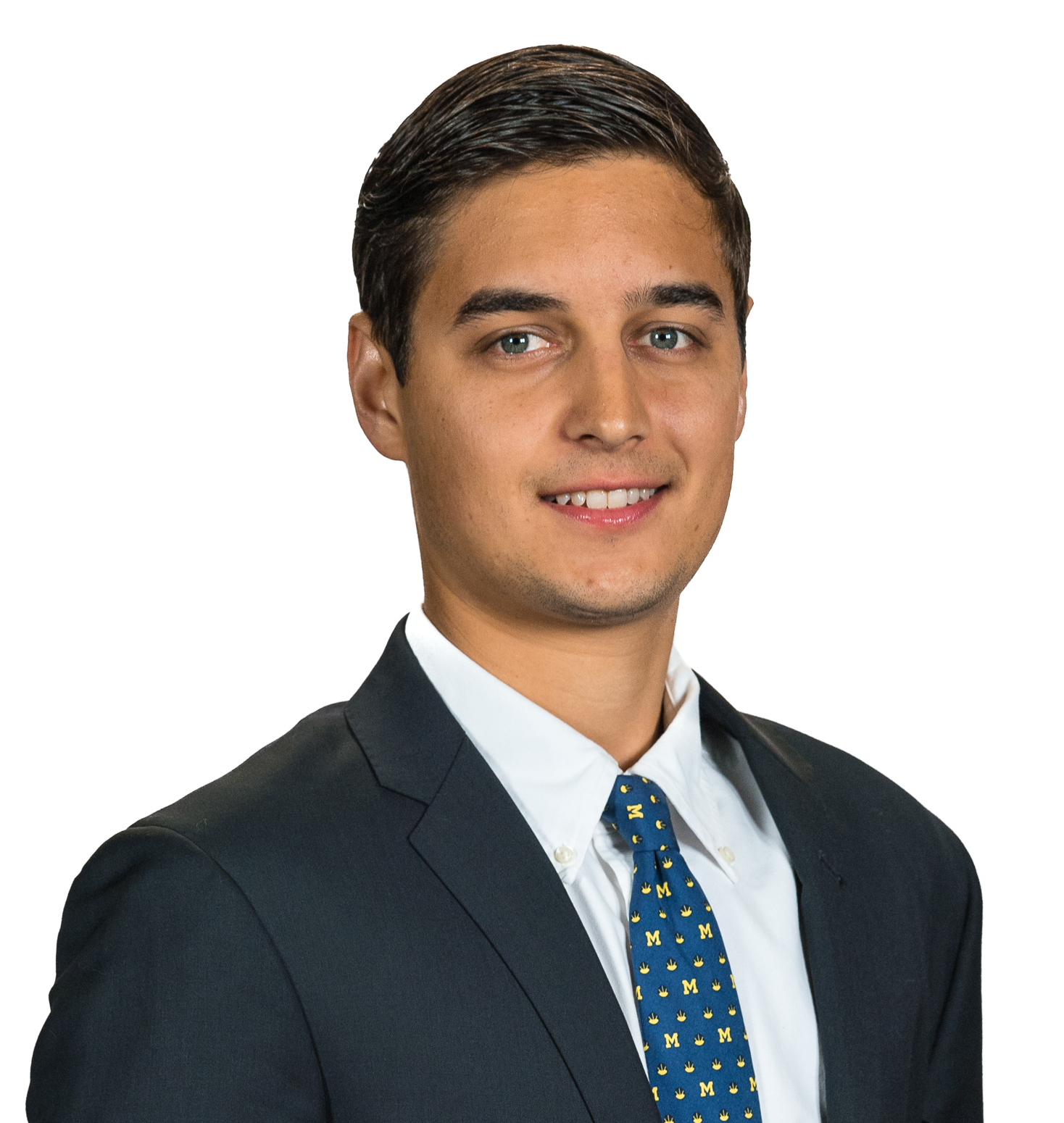 The cryptocurrency market is down a bit today. What does that mean in the context of the current bull run?
• Bitcoin (BTC, Tech/Adoption Grade "A-") is testing its 21-day moving average for support.

• Ethereum (ETH, Tech/Adoption Grade "A-") hit new highs yesterday but slipped 5% today.

• Filecoin (FIL) is down about 12% on the day and almost 40% since last week's all-time high.
Bitcoin is down about 2.5% today and is currently testing the support of its 21-day moving average. The world's No. 1 cryptocurrency has struggled for the past week or so, having been unable to break back above $60,000 since its mid-March all-time high.
If Bitcoin breaks below its moving average, there's some additional support around $55,000. If it fails to hold that level, a drop to the $50,000 to $52,000 range is the next logical stop. Perspective is important here, though, as BTC is only down about 10% since its all-time high. There's nothing going on right now to suggest a drop to $50,000 is imminent.
The scenario we'd like to see play out here is Bitcoin trading between $55,000 and $60,000 while altcoins continue their fun. We'll see how the rest of the week shakes out.
Here's BTC in U.S. dollar terms via Coinbase: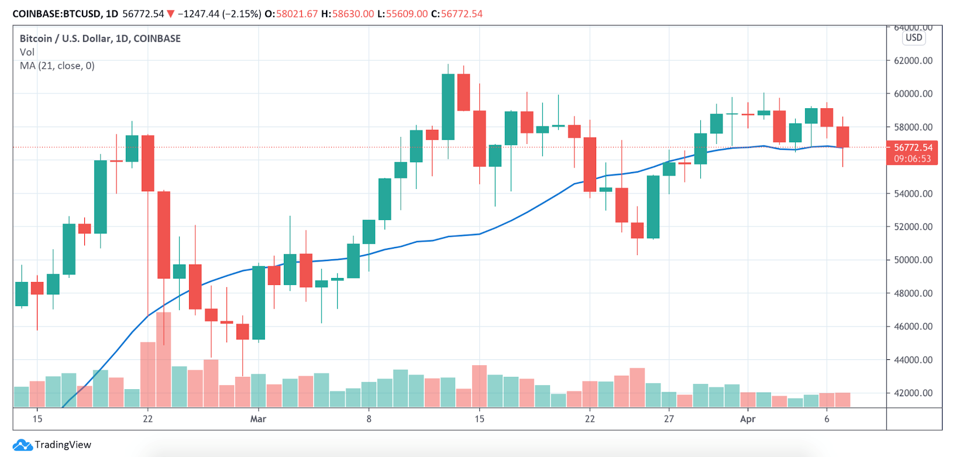 Ethereum managed to briefly tap a new all-time high yesterday but failed to keep its momentum rolling and proceeded to slip 5% today. It's back down to the $2,000 level, which seems to be acting as support.
While the smart-contract platform's price has reached new highs in the last week of trading, it hasn't done so convincingly. Bitcoin is trading at almost three times its 2017-18 all-time high, whereas Ethereum hasn't even doubled its previous high yet.
That suggests there's still lots of room for ETH to run.
Here's ETH in U.S. dollar terms via Coinbase: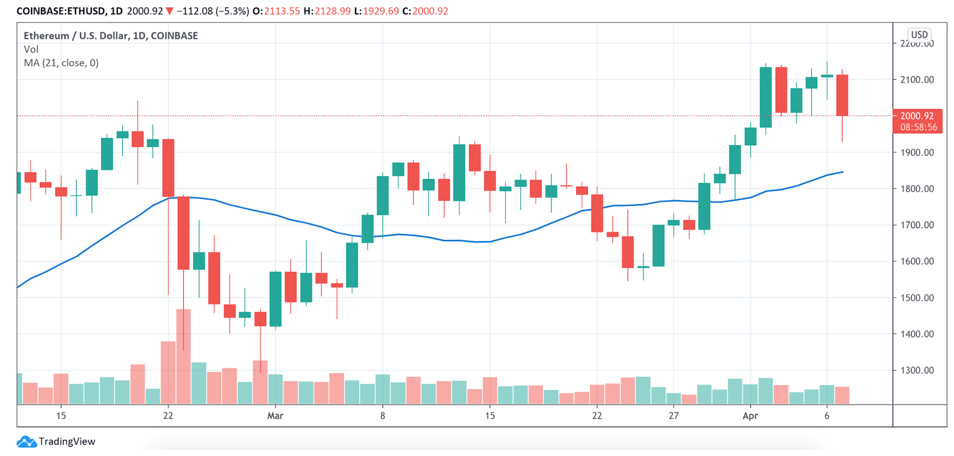 Filecoin had an absolutely meteoric rise in March, climbing from $36 all the way to $240 on April 1. Since then, however, things have not looked as good for the cloud storage network, with its price falling 40% to near $145.
Those crazy-exuberant price runs don't last forever, though, proven by FIL testing its 21-day moving average today. It's retreated a good bit since those highs, but this might be a healthy test for FIL trading action if it's able to successfully bounce off its moving average.
Here's FIL in U.S. dollar terms via Coinbase: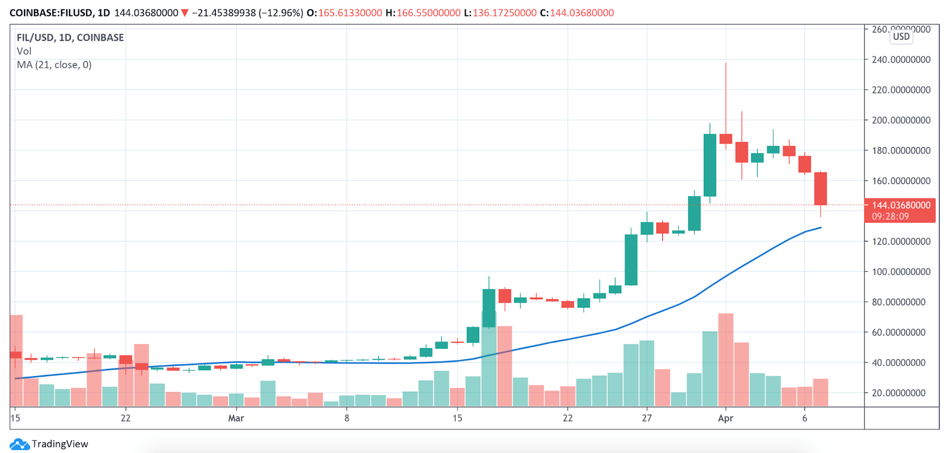 Notable News, Notes and Tweets
• It's safe to say the crypto world is buzzing about the Coinbase earnings report, as Pomp gets in on the action along with Ryan Selkis of Messari.

• Elsewhere, NFTs are still very much a big deal.
What's Next
It's not always up, up and away with cryptocurrency prices, and you can see what happens after too much of a good thing, exemplified today by the Filecoin chart. When prices appreciate too fast without any pauses or corrections, they tend to fall back to Earth.
Now, that being said, today's roughly 5% correction is nothing but a speed bump on the road to new highs. Ethereum is still trading right near $2,000, just below its all-time highs. As long as it stays above $2,000, another larger move upwards is likely. Altcoins will move with ETH, so all eyes are on the No. 2 crypto right now.
Sometimes, we can get too caught up in the short-term action, focusing too much on charts and not enough on the macro picture. This news of Coinbase's initial public offering (IPO) is important for the industry and is nothing but bullish for Bitcoin and all cryptocurrencies.
Coinbase reported $1.8 billion in first-quarter revenue, a massive sum. The traditional financial world will absolutely take notice of that, and new investors are bound to enter the market and soon.
The cat is out of the bag now, and what happens next will likely change the crypto industry forever.
Best,
Alex