Bitcoin Continues Its Rapid Ascent
By Juan Villaverde on November 13, 2020
Bitcoin (BTC, Tech/Adoption Grade "A-") continued climbing during the seven-day trading week ended Thursday, as it was able to cross and maintain itself above the $16,000 level. Unlike the last few weeks, altcoins across the market-cap spectrum kept pace, an encouraging sign of expanding breadth.
It was a fantastic week all around with the crypto market sustaining its post-presidential-election ascent. We did see some early-week volatility, but, over the balance of the period, that steady uptrend sustained.
The Weiss 50 Crypto Index (W50) gained 3.78% as most of the crypto market continues to take off.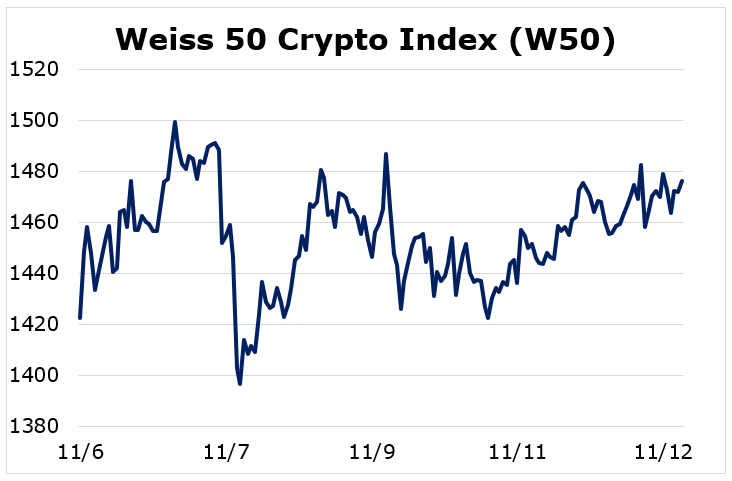 The Weiss 50 Ex-BTC Index (W50X) Index rose 4.09%, showing that the altcoins kept pace with Bitcoin this week.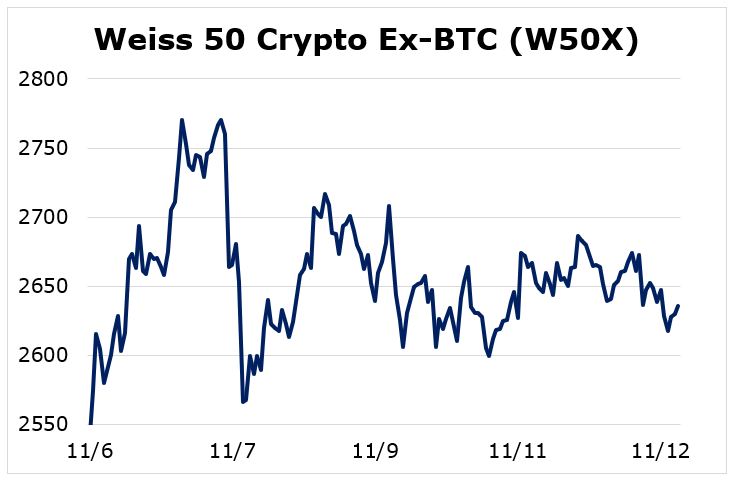 Breaking it down by market capitalization shows minimal difference in performance, as it was an excellent week for most coins and tokens.
The Weiss Large-Cap Crypto Index (WLC) soared 14.01%, as the largest cryptocurrencies continued their climb.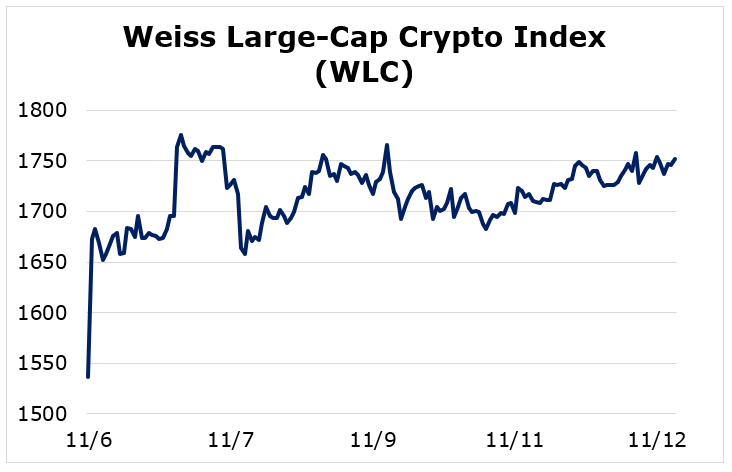 The Weiss Mid-Cap Crypto Index (WMC) gained 13.25%, keeping up with the explosive pace of the large caps.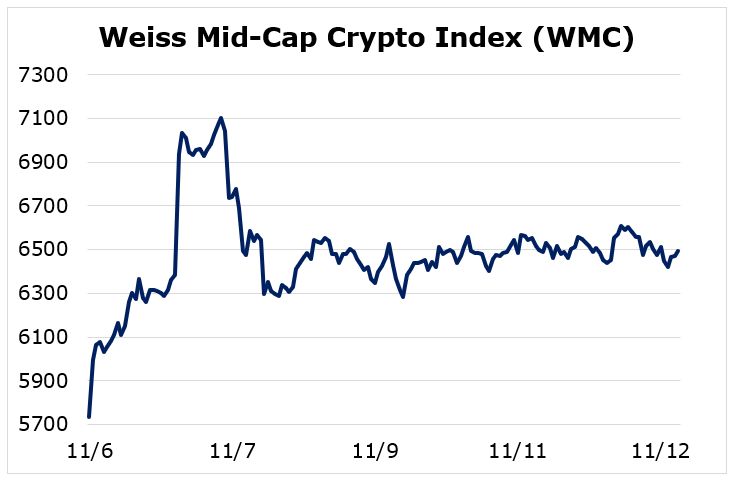 The small caps were finally able to break their recent downward trend. The Weiss Small-Cap Crypto Index (WSC) rose 12.52%.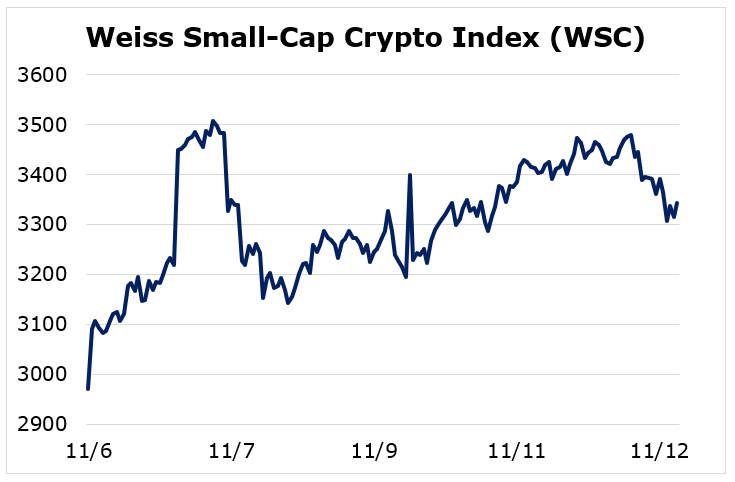 Of course, the big news is the broader market was finally able to keep pace with Bitcoin this week. As we mentioned last week, one of the major preconditions for a sustainable crypto bull market is Bitcoin leading the way.
Bitcoin's market dominance, after peaking at over 66%, now stands at around 65%. This is good news, because, as the market continues rising, Bitcoin is still the frontrunner.
Google searches are relatively quiet, and this reinforces the health of this rally compared to 2017. In 2017, the rapid growth was unsustainable due to "fear of missing out" from retail investors. There is no such frenzy this time around. Interest among the masses is increasing. But this rally has stronger roots.
Indeed, with greater institutional support, Bitcoin should have no problem testing its highs in the near future.
Among all this good news, the troubled institutions and central banks creating the need for cryptocurrency continue to drive demand.
It won't matter if President-elect Biden stays the president-elect, or if President Trump resurrects his re-election bid through lawsuits. Governments and their monetary-policy branches cannot sustainably continue to spend and create money out of thin air.
As macroeconomic factors continue to support Bitcoin's legitimacy and use-case, PayPal Holdings Inc. (Nasdaq: PYPL) has doubled down on its view of its future. PayPal announced on Thursday that it will be removing the waitlist for its new crypto services.
While only 10% of customers currently have crypto functionality, this will be changing soon. Through PayPal, users will be able to utilize its platform to buy, sell and hold cryptocurrency. The company also announced it will be doubling its weekly buying limit to $20,000.
This bodes well for both PayPal and Bitcoin because it shows an increase in demand from retail investors along with institutional investors.
Last week, we told you that the time for liftoff has almost come.
This week, we see that it may have just begun.
Best,
Juan
Weiss Ratings is the only financial rating agency that covers cryptocurrencies. Click here for more in-depth information about Weiss Crypto Ratings, including the Weiss Crypto Price Indexes and crypto-asset reviews.