Bitcoin Got a Boost from El Salvador, Will Other Nations Follow?
By Sam Blumenfeld on June 11, 2021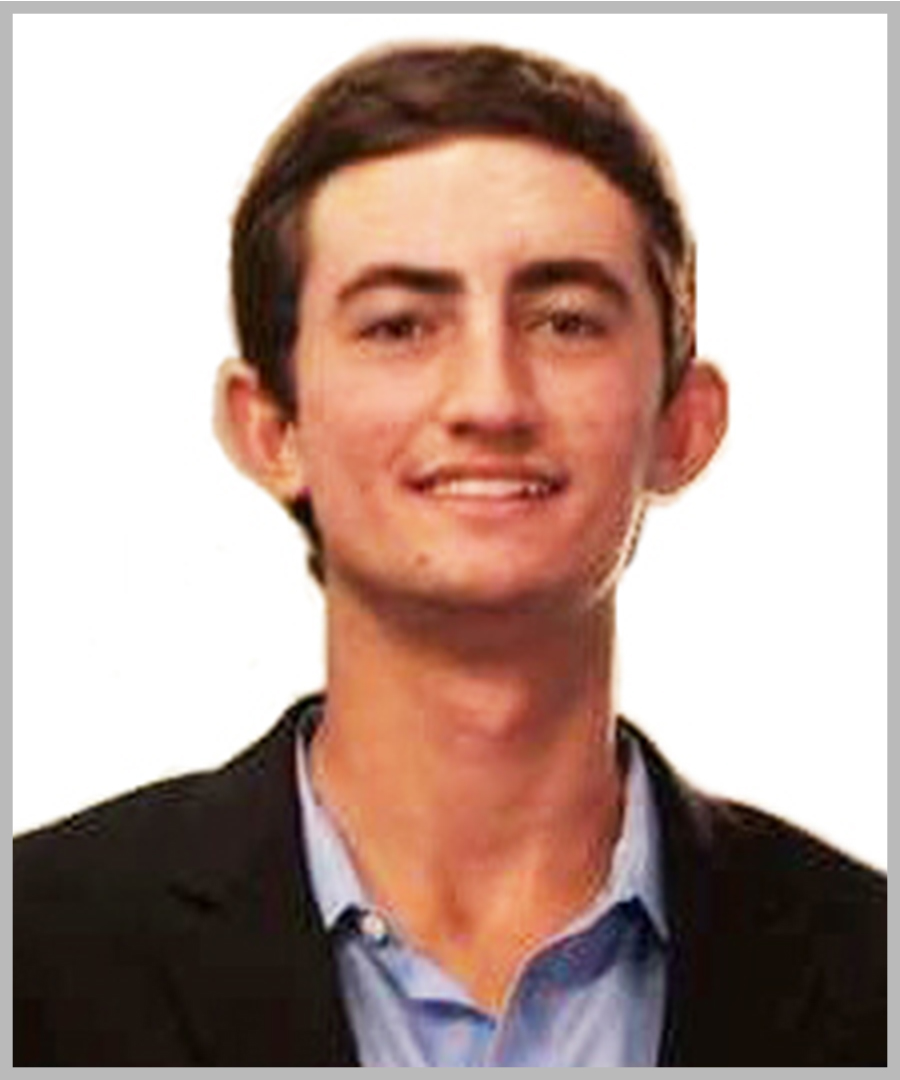 • Bitcoin (BTC, Tech/Adoption Grade "A-") is one of just a few of the more-established cryptocurrencies in the green today. It sits at $37,000, but the market is relatively unchanged.

• Ethereum (ETH, Tech/Adoption Grade "A-") is sliding slightly lower to around $2,425, and it continues to trade range-bound between $2,300-$2,900.

• After bottoming at about 40% market dominance, Bitcoin is starting to reclaim its share after adding roughly 200 basis points, rising 44.5%.
The King of Crypto was finally able to gather some momentum after El Salvador declared Bitcoin as legal tender. There are also rumors that Paraguay could follow in its footsteps, and politicians from Panama, Brazil, Mexico and Argentina are also voicing their support with proposed actions and laser eyes on their Twitter, Inc. (NYSE: TWTR) profile pictures.
Still, Bitcoin faces heavy resistance from its 200-day ($41,000) and 21-week ($43,000) moving averages, key levels that generally act as support during bull-markets. If Bitcoin can retake those levels, it is a good sign for what is to come.
Like much of the crypto market over the past several weeks, Bitcoin has traded within range. However, we do see some good news after Bitcoin managed to overtake its 21-day moving average, which could act as a short-term support if it holds.
Here's Bitcoin's price in U.S. dollars via Coinbase Global, Inc. (Nasdaq: COIN):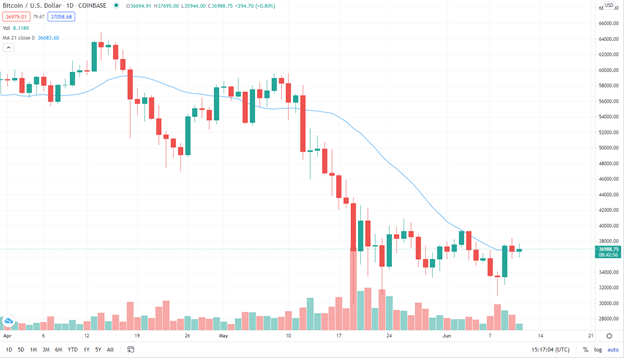 Ethereum, along with much of the broader market, is underperforming Bitcoin today after it failed to gather the same momentum after the El Salvador news.
The second largest cryptocurrency by market capitalization has consistently traded back and forth between $2,300 and $2,900, save for a short-lived dip towards $2,200 which reversed quickly. Despite managing to briefly overtake its 21-day moving average last week, Ethereum failed to sustain itself above the level and fell lower.
Ethereum is still following Bitcoin's lead while traders wait for a bullish confirmation of a potential prolonged rally. Now that altseason is on hold, traders will be closely eyeing Bitcoin's performance to see if it can lift the crypto market higher.
Here's Ethereum's price in U.S. dollars via Coinbase: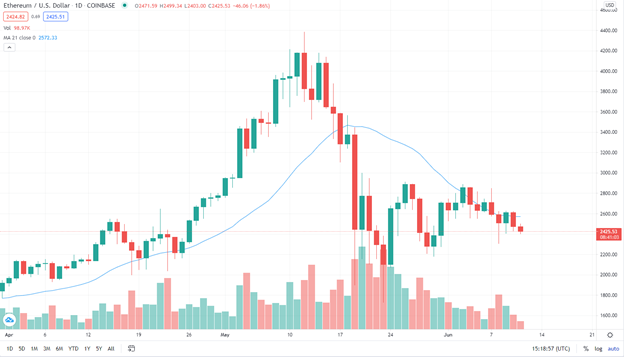 Index Roundup
The crypto market had a tough week, but we're still seeing most cryptocurrencies trade in a range before a conclusive move upwards or downwards confirms the path of the market.
As is most often the case during downswings, the most established assets tend to hold their value better than their smaller and more speculative counterparts. Bitcoin is considered to be a relative crypto safe haven compared to the more volatile tokens.
While the crypto market took a relatively significant hit during the seven-day trading week ended Thursday, more established crypto assets remained in their ranges, minimizing broad downside brakes.
The Weiss 50 Crypto Index (W50) lost 24.90%, with very few cryptocurrencies spared from the consistent weeklong decline.
The Weiss 50 Crypto Ex-BTC Index (W50X) fell 28.82% as Bitcoin managed to hold more of its value than its altcoin peers in light of its bullish news.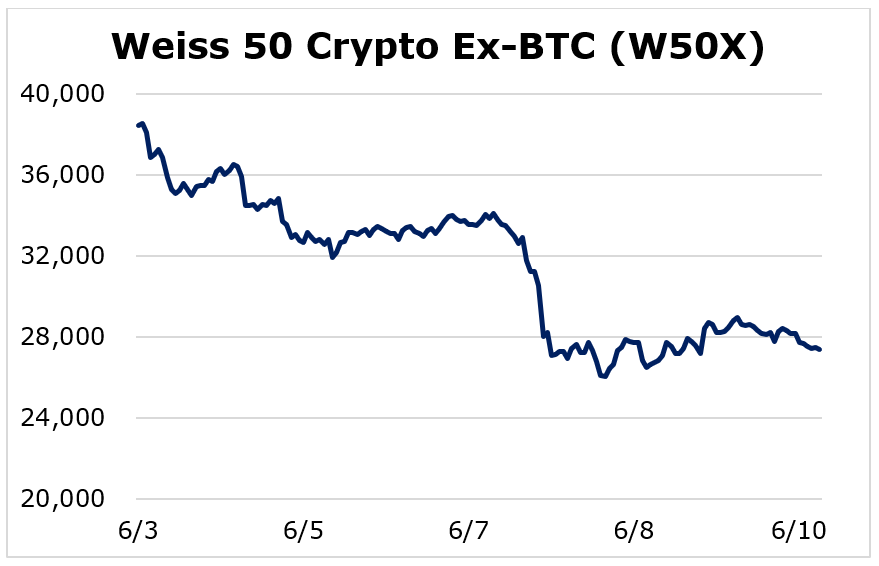 Breaking down performance this week by market capitalization, the large-caps fared the best this week as they suffered lesser pullbacks, with the Weiss Large-Cap Crypto Index (WLC) declining the least at 23.59%.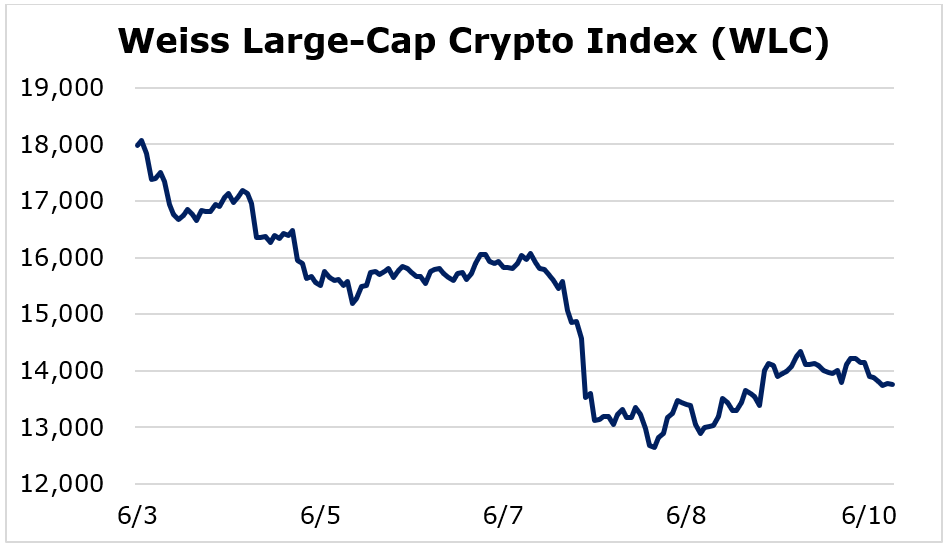 The mid-caps were the biggest losers, with the Weiss Mid-Cap Crypto Index (WMC) tumbling 32.58%.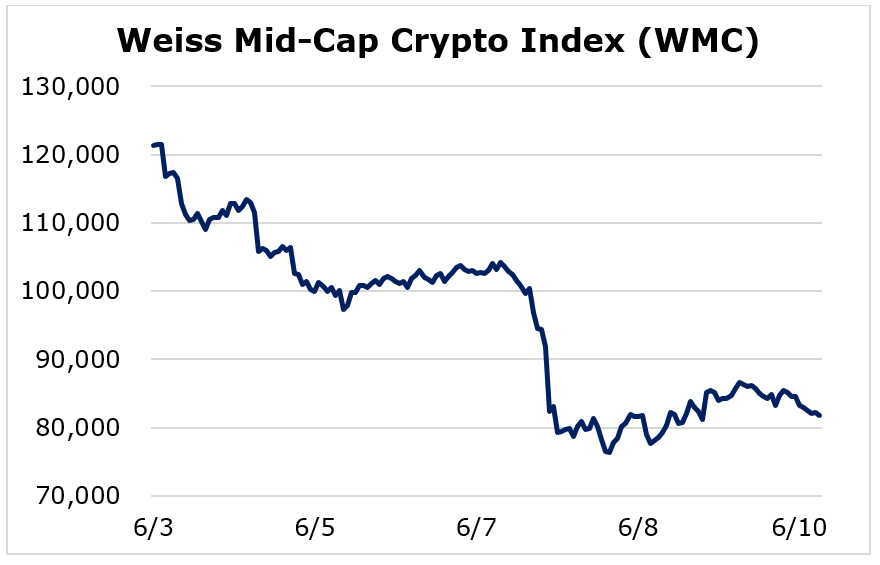 After booking the only index loss last week, the Weiss Small-Cap Crypto Index (WSC) fell another 25.68%.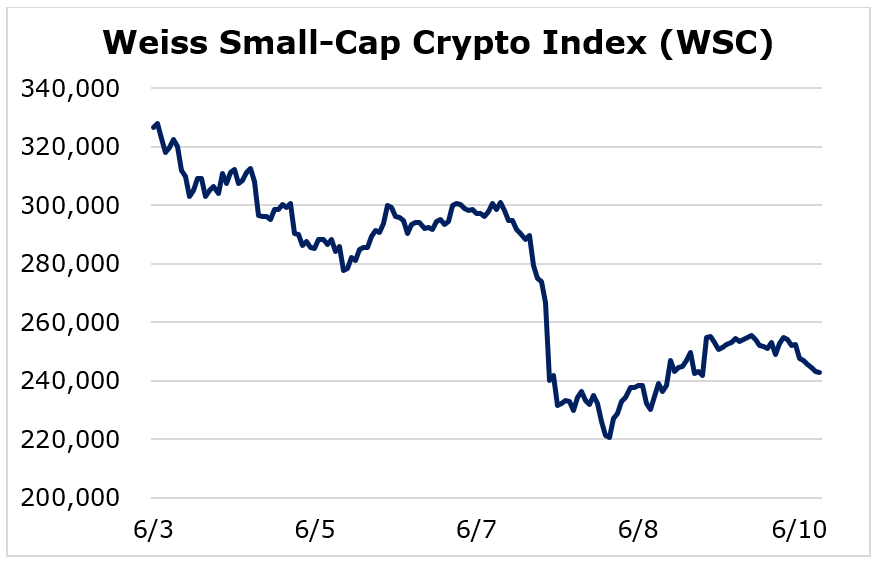 This week's price action was disappointing, but it doesn't quite signal the end of the bull market. Instead, it only strengthens the our position that the market will see an extended period of consolidation before advancing higher.
It also means that investors are waiting for a decisive upswing from Bitcoin and other large cryptocurrencies before switching capital flows into speculative altcoins.
We can see this in Ethereum's network, too. After facing soaring gas fees earlier this year, transaction costs have now shrunk and are holding below 50 Gwei.
Notable News, Notes and Tweets
• Pomp asserts that strong hands are preparing for the next big bullish move.

• Michael Saylor emphasizes the positive impacts of China's mining crackdown.

• The Fed's balance sheet reaches a record $8 trillion.
What's Next
While this week's poor index performance may look concerning in a vacuum, our data tells us otherwise. With most crypto assets still trading in a range higher than last correction's lows, the current market is supporting our position that we're seeing the expected, prolonged period of sideways trading before a trend is confirmed.
And our analysis suggests that next trend will be the parabolic phase of the crypto four-year cycle.
While volatile downswings can be nerve-racking, they are an inevitable part of the crypto market. We wouldn't be able to see the massive upswings that crypto can provide without volatility. And we do believe the next upswing is on the horizon.
Bitcoin saw major positive news this week after El Salvador declared it as legal tender. While there is already opposition mounting by the International Monetary Fund (IMF), we know that change doesn't happen overnight. This is an important domino to fall for the future of crypto adoption. Hopefully, other nations will follow suit.
Bitcoin fundamentals are extremely strong, and surging adoption should help push the broad market to the next level.
Best,
Sam