Bitcoin's Big Bounce
By Alex Benfield on July 21, 2021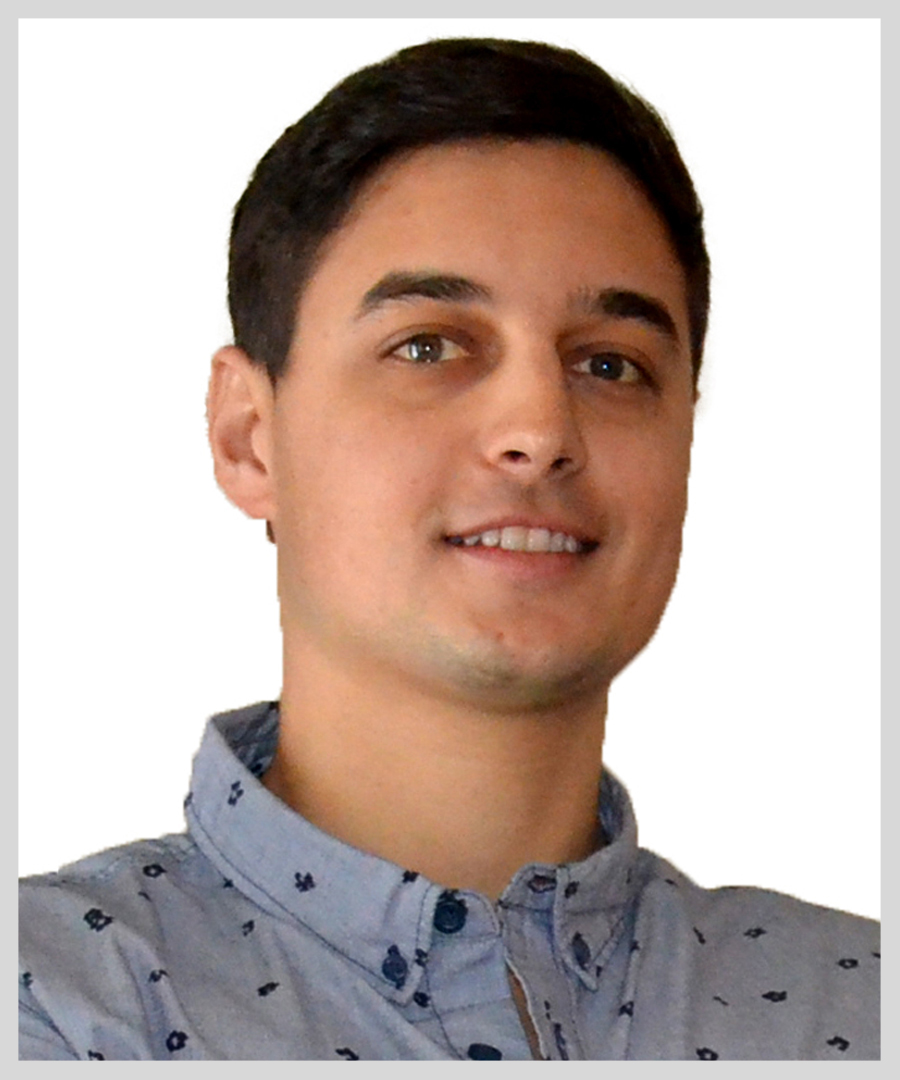 • Bitcoin (BTC, Tech/Adoption Grade "A-") bounces big off key support level and shows signs of life once again.

• Ethereum (ETH, Tech/Adoption Grade "A") is up big as well today after a bounce from support.

• Polygon (MATIC) has turned around and is up 27% after posting nine straight red candles.
Bitcoin had a rough start to the week, losing the $32,000 support level on Monday before falling all the way to $29,300 on Tuesday. That meant it closed beneath the key $30,000 support level.
This was very worrisome, especially considering the fact that there isn't much volume in between the $30,000 support level and the previous bull market high around $19,000, which would be the next obvious high-volume level.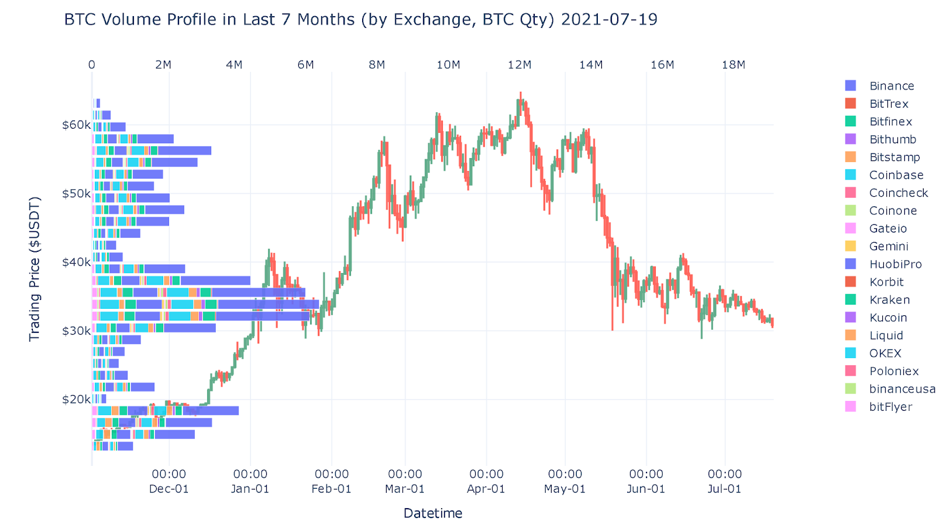 That put BTC in shaky territory. However, it didn't move much at all after falling beneath support — a sign that there were not many sellers left at that level.
In the early hours of Wednesday morning, the bulls turned the tides and pumped Bitcoin up by over 9% to push above the $30,000 support and the $32,000 resistance. A close above the $32,000 level would be a bullish sign.
The bulls must show some strength here in order to gain the momentum, though, and Bitcoin needs to clear the $32,000 support and make a move higher in order to calm the nerves of most investors. We will see how this plays out over the course of the week.
Here's BTC in U.S. dollar terms via Coinbase Global, Inc. (Nasdaq: COIN):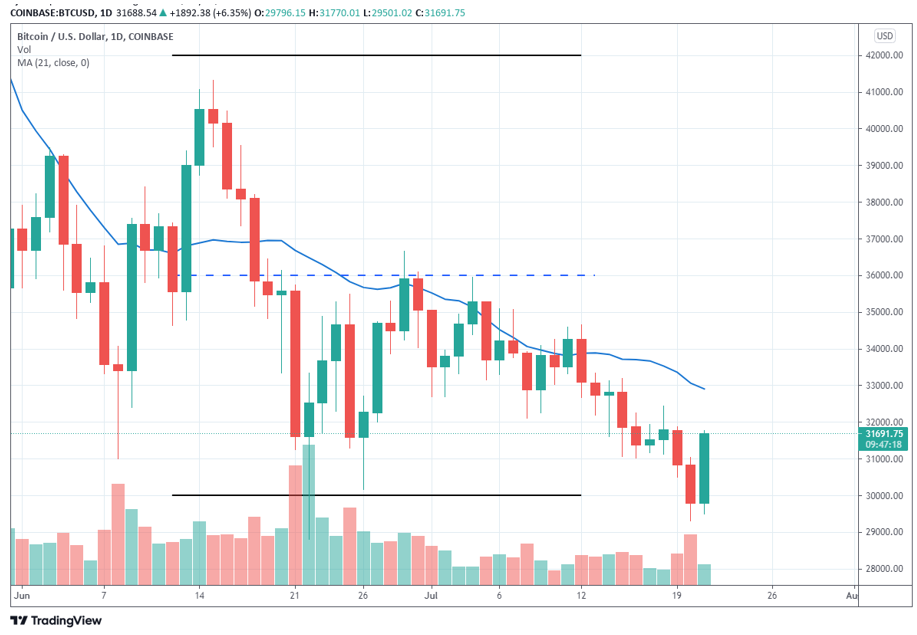 Ethereum has had a similar go of things so far this week as it's clearly tracking Bitcoin right now, waiting for the King of Crypto to take the lead. ETH slipped below $1,900 at the beginning of the week before closing below the key support level that we've been tracking at $1,800.
Just like Bitcoin, though, there weren't many sellers at this level, and ETH didn't move much.
That's not exactly what you would expect an asset to do after losing a key support level, and it made us question whether or not this was a true break of support or just a bear trap.
For now, it does appear to have been a bear trap as ETH is up 12% on the day at the time of writing. The next important level to gain and hold is $2,000, a very important psychological level that ETH needs to establish itself above.
In order for the bulls to regain momentum, they'll need to do more than post one good green day; they'll need to build on top of the current bounce.
The rest of this week is an important test of strength.
Here's ETH in U.S. dollar terms via Coinbase: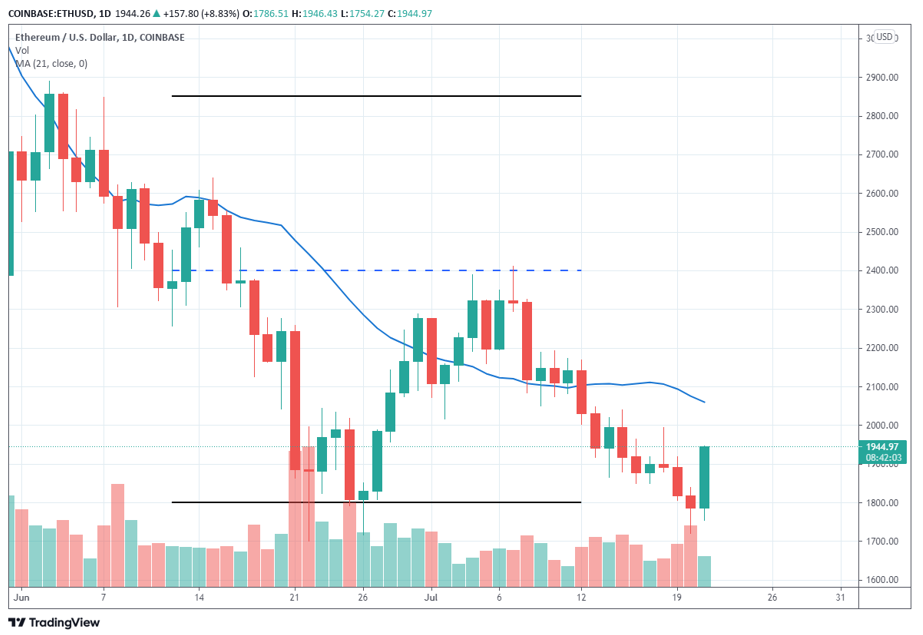 MATIC had been on quite the losing streak, posting nine straight red candles before today, representing a fall from $1.04 on July 12 to as low as 63 cents yesterday. It is up over 27% today and is back to trading near 87 cents.
MATIC was one of the best-performing assets of Q2 2021 and will look to establish itself above $1 again soon. It's one of the best and most used Layer-2 solutions at the moment and is likely an early leader of a growing sector of the market.
We expect Layer-2 solutions to continue to grow over time as they offer lower fees and faster transaction times while still having the benefit of being linked to the more secure Layer-1 blockchain (specifically Ethereum, in Polygon's case).
Here's MATIC in U.S. dollar terms via Coinbase: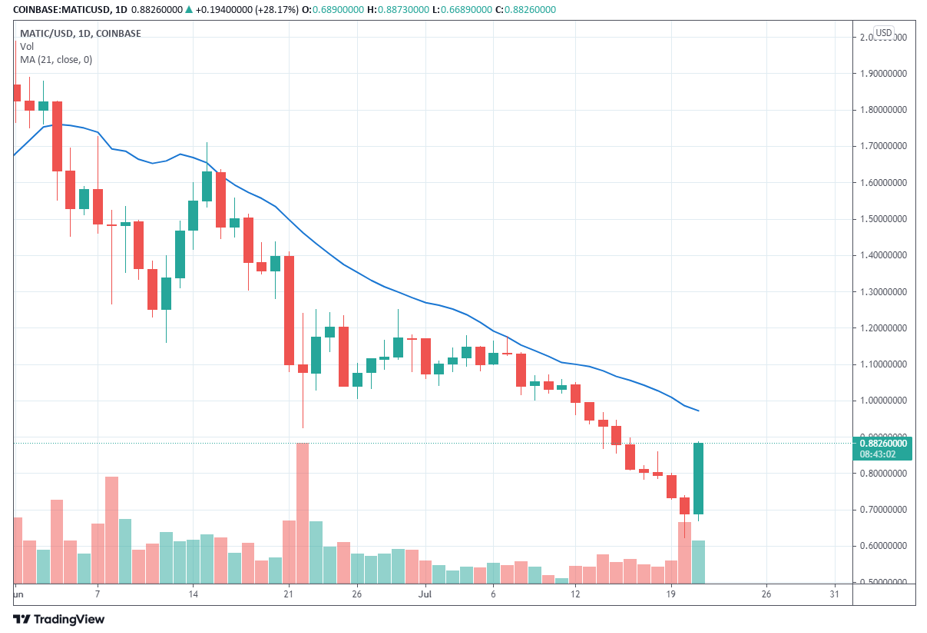 Notable News, Notes and Tweets
• Elon Musk and Jack Dorsey are set to discuss Bitcoin with Cathie Wood at "The B Word" conference today. Watch here.

• Michael Saylor gives his thoughts on the new Upgrade Bitcoin credit card, the second Bitcoin rewards card to launch this month.

• A thread by Sam Bankman-Fried, CEO of FTX Trading Ltd., a crypto exchange, that just raised a round that valued the company at $18 billion dollars.
What's Next
Yesterday was a crucial test for Bitcoin and the rest of the cryptocurrency market. BTC broke down below the $30,000 level, a crucial marker that most analysts were concerned with.
What followed was interesting. Bitcoin didn't really move; it sat around $29,800 for quite some time, never finding enough sellers to push the price lower. Then, overnight, the bulls came back with authority and pushed Bitcoin back above $31,000.
We mentioned previously that repeated tests of downside support couldn't be ruled out. While stressful, that was most likely the last test of the $30,000 level that we'll see.
All the remaining weak hands have been shaken out. All that's left are the HODLers and the bulls.
The fundamentals are as strong as ever, adoption is picking up and regulators are finally educating themselves on cryptocurrencies. Bitcoin is being adopted as legal tender, and the venture capital is flowing freely into cryptocurrency companies like FTX and (rumored) SushiSwap (SUSHI).
We don't know for sure that yesterday was the low point, but all signs are saying that it was the end of the bleeding.
Now we wait to see what the bulls can do.
Best,
Alex