Bitcoin Sustains Its Meteoric Rise
By Juan Villaverde on November 20, 2020
Bitcoin (BTC, Tech/Adoption Grade "A-") managed to surpass and sustain itself above the $18,000 price level during the seven-day trading week ended Thursday. As the largest and most established cryptocurrency, Bitcoin continued its torrid rally while gathering more and more momentum.
Despite a slow start to the week, most cryptocurrencies rallied towards the middle and end. Bitcoin is approaching its all-time high of around $20,000, and it shows no signs of slowing down anytime soon.
The Weiss 50 Crypto Index (W50) rose 7.57%, as Bitcoin led this week's rally again.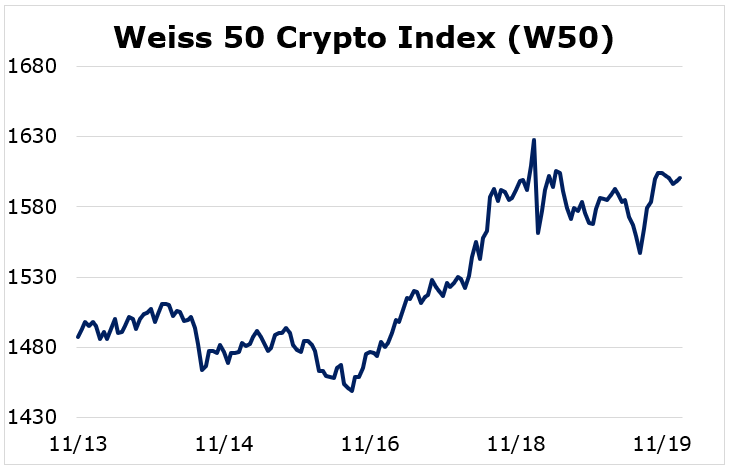 The Weiss 50 Ex-BTC Index (W50X) gained 5.24%. Aside from Bitcoin, the most established cryptocurrencies performed well, but they did not quite match the leader's performance.
Breaking down performance by market capitalization shows that larger cryptocurrencies outpaced their smaller and mid-sized counterparts this week.
The Weiss Large-Cap Crypto Index (WLC) gained 10.04% in a steady uptrend.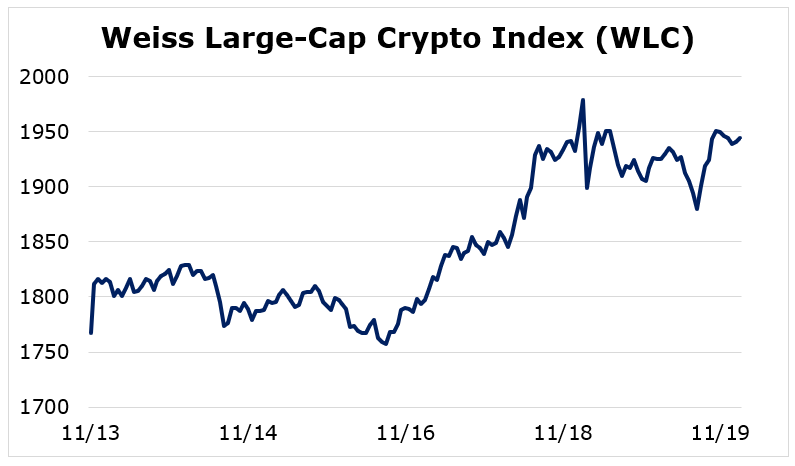 The Weiss Mid-Cap Crypto Index (WMC) gained 5.53%, but they went through volatile periods throughout the week.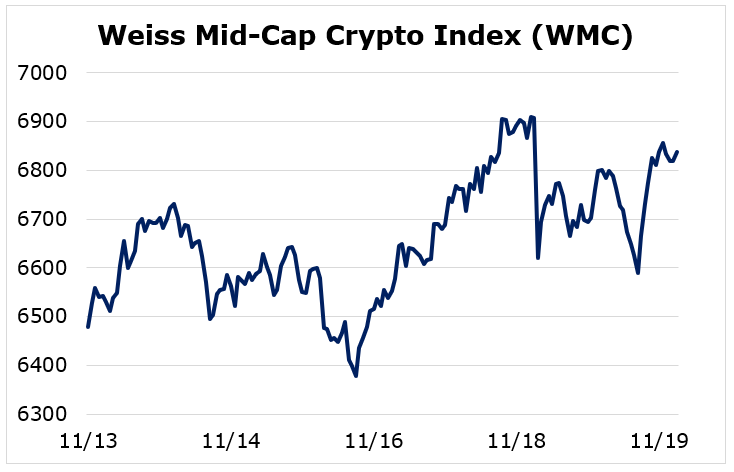 Smaller cryptocurrencies did not benefit from the positive trend of the broader market. They struggled, as the Weiss Small-Cap Crypto Index (WSC) shed 2.72%.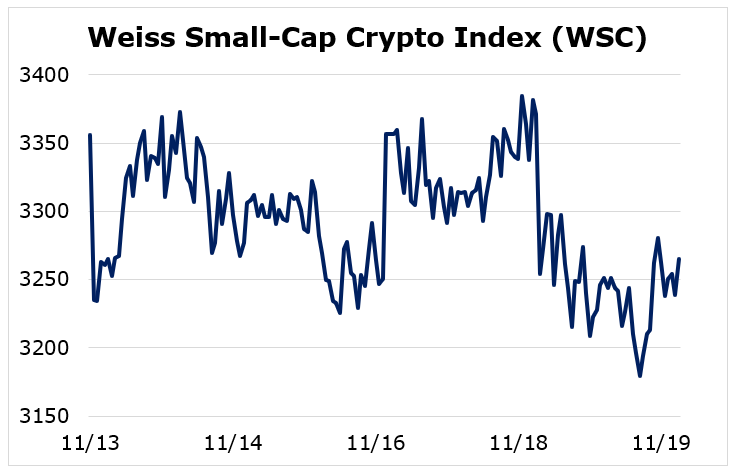 Bitcoin continues to run up to levels not seen since the 2017 frenzy. While the broader market wasn't quite able to keep up this week, it is encouraging to see Bitcoin's breakout gathering more and more momentum.
Bitcoin's market dominance increased to 67% this week, and this is a good sign. As we've said before, Bitcoin establishing and maintaining itself as the frontrunner is a positive because it shows greater sustainability due the fact that a broader segment of the investing public is on board.
When Bitcoin goes through an extended uptrend, it is easy to compare it to the rally in 2017. However, this rally is much healthier because the fundamentals have markedly improved.
Regardless of the outcome of the presidential election, the deadlocked government will be forced to inject stimulus. The continued devaluation of the U.S. dollar will further catalyze crypto's continued boom.
Additionally, frenzy caused by "fear of missing out" is still noticeably absent compared to in 2017. The number of google searches asking about Bitcoin and its price is much lower, and there is a rush in institutional investment and adoption driving this charge.
While it appears President-elect Joe Biden will fend off President Donald Trump's legal efforts to unseat him as president-elect, Trump just nominated Brian Brooks, a notable crypto ally, for Comptroller of the Currency.
He was general counsel at Coinbase before Treasury Secretary Steve Mnuchin called on him to act as an assistant comptroller. When the former Comptroller of the Currency announced his decision to step down, Brooks filled in for the interim. He now has the nomination to step into a full five-year term.
This is significant because a favorable regulatory climate in the U.S. would stimulate a global ecosystem where crypto adoption is that much easier — and it would thrive much faster.
The nomination itself is a controversy right before Biden takes over, and it will likely meet pushback from Democrat lawmakers. It remains to be seen whether Brian Brooks' confirmation can happen in time, but it is a positive sign, nonetheless.
Last week, we told you the next sustainable rally may have just begun.
This week, we see more evidence supporting it.
Best,
Juan
Weiss Ratings is the only financial rating agency that covers cryptocurrencies. Click here for more in-depth information about Weiss Crypto Ratings, including the Weiss Crypto Price Indexes and crypto-asset reviews.