The Future of Trust in One Word: Blockchain
By Tony Sagami on September 16, 2019
Do you trust me?
Every transaction requires trust. If I pay you for a good or service, you trust that the currency I give you is authentic. And I trust that the liquid you pump into my car, for example, is gasoline and not water.
Humans have been trading things with each other for thousands of years and first started using currency issued by King Alyattes in what is now Turkey, in 600 BC. That first coin featured a roaring lion.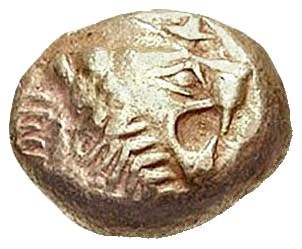 The Lydian Lion, likely the world's first coin, was minted in 600 BC in Asia Minor (present-day Turkey).
We use currency — paper and plastic — because we don't fully trust each other. That's why government-issued currency is backed by the full faith and credit of the issuing sovereign government.
However, currency is an outdated form of trust. We will all be using a new, digital form of trust in the very near future.
This digital trust is going to be powered by blockchain. And it won't just be powered by it, but blockchain is about to become synonymous with digital trust.
The reason we use intermediaries — banks, brokers, title companies, etc. — is because we don't know and/or don't trust the parties we are doing business with.
Blockchain does the same thing as those expensive intermediaries … and it does it faster, more efficiently and at lower cost.
With blockchain, assets that are put on a distributed ledger network can never be altered, hacked, duplicated or changed. And once that asset — be it a piece of real estate, a car title, $10,000 or even a presidential vote — is put on the blockchain, ownership can be transferred over the internet with a time-stamped and instant authentication.
Related post: Blockchain is Making Collectibles, Real Estate Collective
One of the most practical uses of blockchain will be for voting. Presidential candidate Andrew Yang, whom I recently meet at a cryptocurrency conference, is promoting a blockchain-based voting system in the U.S.
In Yang's own words:
"It's ridiculous that in 2020 we are still standing in line for hours to vote in antiquated voting booths. It is 100% technically possible to have fraud-proof voting on our mobile phones today using the blockchain. This would revolutionize true democracy and increase participation to include all Americans — those without smartphones could use the legacy system and lines would be very short."
And a blockchain-powered system will also eliminate voter fraud and tampering.
Related post: The Crypto Candidate: Digital Currencies, Blockchain Key to America's Future
On Aug. 15, CBS reported that a federal judge found that Atlanta's current touchscreen machines, which have no paper trail, are unreliable. So unreliable that — if a new system isn't in place by the state's March 24, 2020, presidential primary — the election will be held using paper ballots.
Blockchain-based voting has been successfully tried in West Virginia and Colorado. One company, which my Weiss Crypto Investor subscribers already own, is poised to grab these contracts from almost every city, county and state in the country. See how you can gain instant access to this stock — along those of all my favorite blockchain players, current and future — here.
But do it soon. That's because blockchain is going to fundamentally change every type of transaction that we engage in, and investing in the blockchain winners could be the biggest money you ever make. Don't wait. Start here.
Best wishes,
Tony Sagami