BTC Hits $28,000. But ETH Piles Up Even Bigger Gains for Investors!
By Juan Villaverde and Bruce Ng on December 30, 2020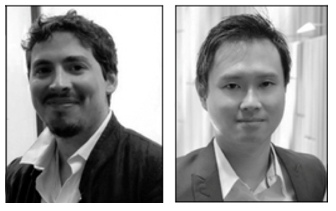 First, Bitcoin (BTC, Tech/Adoption Grade "A-") punched right through its prior all-time high at $20,000. Then, this week, the King of Crypto blasted above $28,000.
But amid all the hoopla and excitement that stirred up, a key fact stood largely unrecognized: Ethereum (ETH, Tech/Adoption Grade "A") actually made a lot more money for investors this year than Bitcoin. Both before and after pandemic panic hit.
Year to date, Ethereum is up a blistering 469% — compared to Bitcoin's 281%.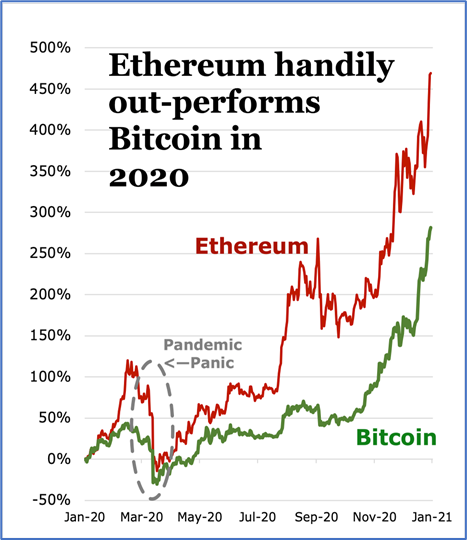 Moreover, there are solid reasons to expect ETH will continue making more money for investors in 2021.
Here's why:
[1] More developers. ETH is the leading smart-contract platform in crypto. It also has the most developers working on it.
[2] Robust and rising transaction volume. Over $1 trillion in transactions were recorded on the Ethereum blockchain in 2020.
That dwarfs even global payment-services titan PayPal with its 350 million-plus customers.
And every transaction generates network fees payable in ETH.
[3] Decentralized Finance (DeFi). Bitcoin may be King of Crypto, but Ethereum is the Queen of DeFi. Most DeFi protocols run on it. Same with most stablecoins.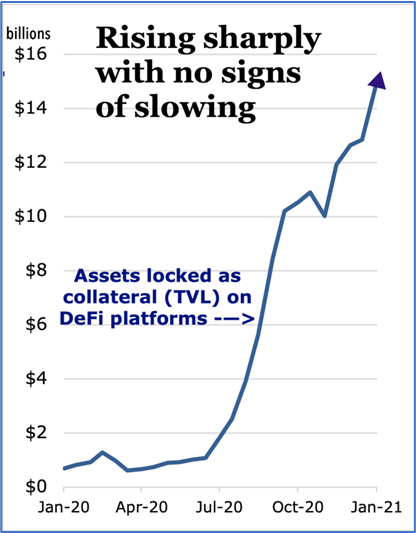 [4] DeFi is red-hot — with no sign of cooling off. At the beginning of 2020, the total assets pledged as collateral (TVL) on various DeFi platforms stood at just $687 million.
Today, it's $14.9 billion. That's a mind-boggling 2,068% increase! And more than any other blockchain, Ethereum has the DeFi tiger by the tail.
[5] Would-be competitors starting to fade. Polkadot, Cosmos, Cardano and Tezos have been trying to lure DeFi business away from Ethereum by promising cheaper, faster processing.
But this appeal is now a lot less compelling.
That's because the ETH 2.0 upgrade includes "Sharding," which will substantially hike Ethereum's processing throughput.
On top of that, a number of DeFi platforms (Synthetix, for example) are implementing their own scaling solutions (like optimistic roll-ups) to make transactions faster and cheaper.
[6] Few DeFi operators find the grass greener elsewhere. Without ever leaving the Ethereum blockchain, you can, for example, deposit Chainlink into lending platform Aave, to borrow USDC. And then store the USDC in a Yearn.finance vault to earn double-digit yields.
No other single blockchain offers such a wide variety of financial choices to DeFi investors.
[7] Ethereum is likely at least 40% undervalued. Back in December 2017, ETH was a $1,200 coin. And back then, DeFi hadn't even been invented yet! So, by any reasonable measure, Ethereum is a vastly more valuable asset today than it was then.
And yet, at $700 and change, Ethereum (unlike Bitcoin) is still trading 40% under its 2017 peak price.
Surely, it's a safe bet that ETH will at reclaim its prior all-time-high (near $1,200) in 2021. And then go even higher from there.
Happy New Year!
Juan and Bruce