Ethereum Is Only Getting Bigger
By Sam Blumenfeld on April 30, 2021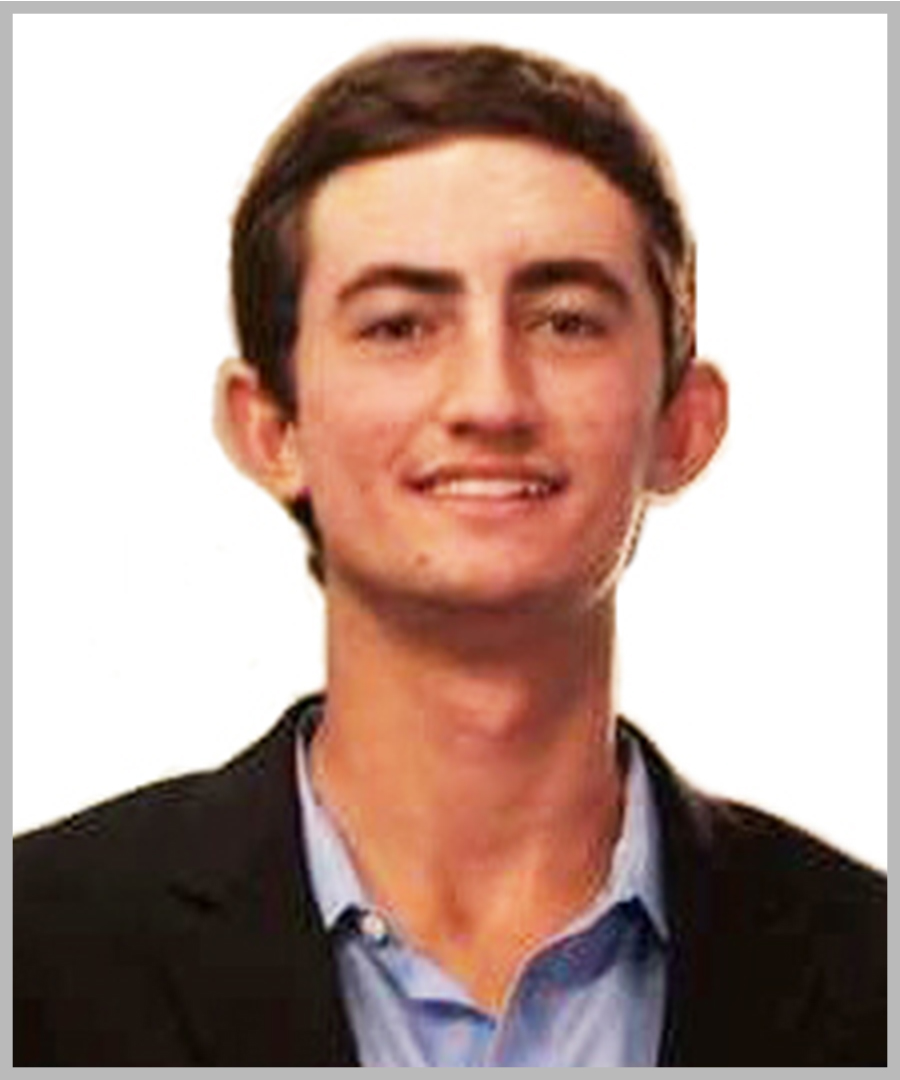 There is a real debate to be had now about where leadership rests in the rapidly evolving cryptocurrency market.
• Ethereum (ETH, Tech/Adoption Grade "A-") sets a new all-time high of $2,800 as it approaches the critical $3,000 milestone.

• Bitcoin (BTC, Tech/Adoption Grade "A-") regains some lost ground after recovering and moving back above $57,000.

• Bitcoin's dominance over the broader crypto market falls below 50% for the first time since November of 2017.
Ethereum has continued its upward trend, as it managed to set a new all-time high yesterday. This latest move comes after the European Investment Bank (EIB) utilized the Ethereum blockchain to issue $121 million in digital debt, showing the importance of blockchain technology for the future of financial operations.
The second-largest cryptocurrency by market capitalization looks set to break through the psychologically significant $3,000 milestone — and soon.
ETH is trading well above its 21-day moving average, which it's only touched briefly on two occasions since retaking it in late March.
Here's Ethereum's price in U.S. dollars via Coinbase Global, Inc. (Nasdaq: COIN):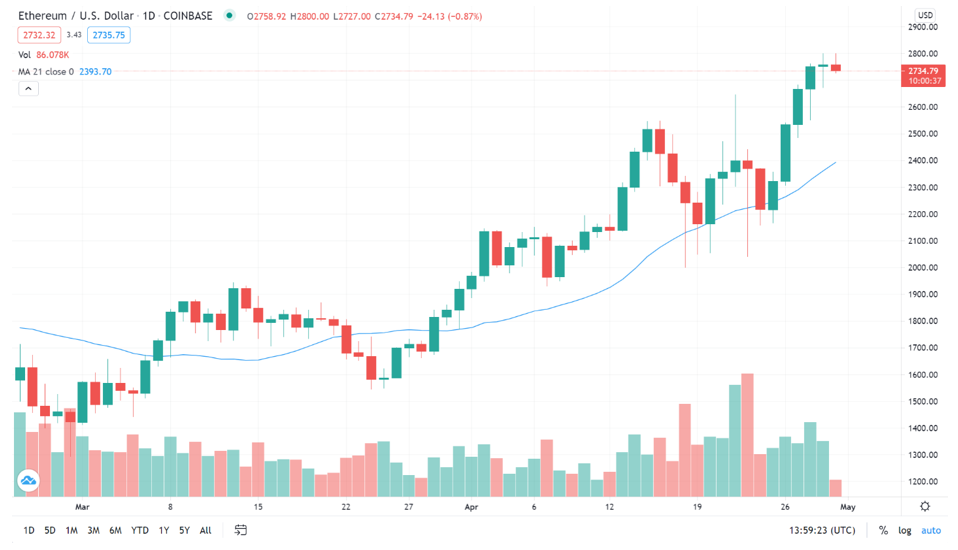 Bitcoin has struggled over the last two weeks, underperforming most other crypto assets, but it's up 6% so far today and is now trading above its 21-day moving average.
It would be very bullish if Bitcoin could hold up here above that average, and we could see a swift move to new highs if it's able to sustain its momentum.
After many aggressive bullish traders using leverage were liquidated, it sets the stage for a healthier rally once Bitcoin does manage to regain its footing above its 21-day moving average.
Here's Bitcoin's price in U.S. dollars via Coinbase: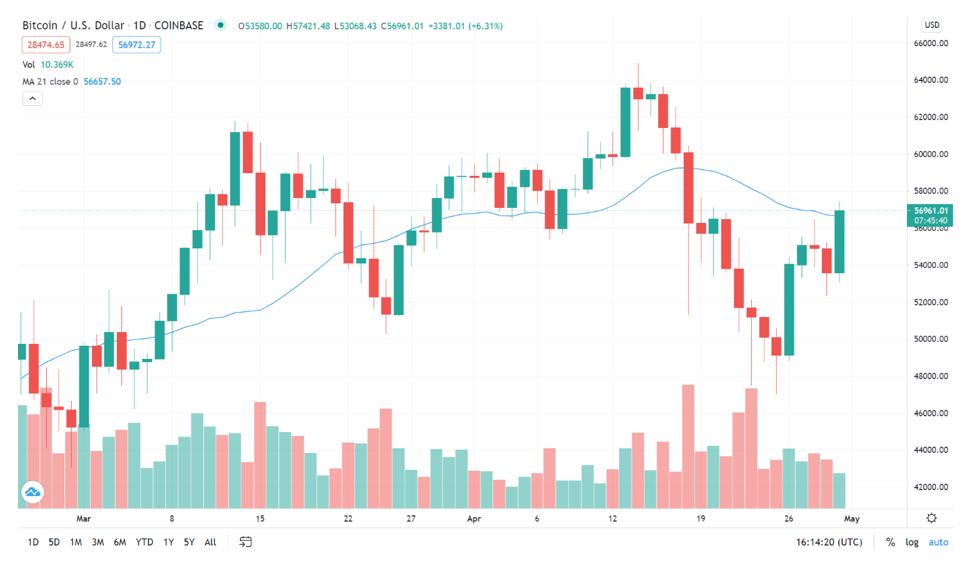 Index Roundup
It was a largely positive week overall for the broader crypto market. However, Bitcoin notably missed out on much of the market's comeback during the seven-day trading week that ended Thursday.
Bitcoin is making a big move today, though, and it's a good sign that it's regaining ground as investors chase outsized returns in projects with high growth potential.
It's an encouraging development that President Joe Biden's proposed capital gains tax increase didn't spook the market for long, as positive tailwinds should continue pushing the industry to new heights.
The Weiss 50 Crypto Index (W50) increased 8.55%, signaling a positive rebound from last week's pullback.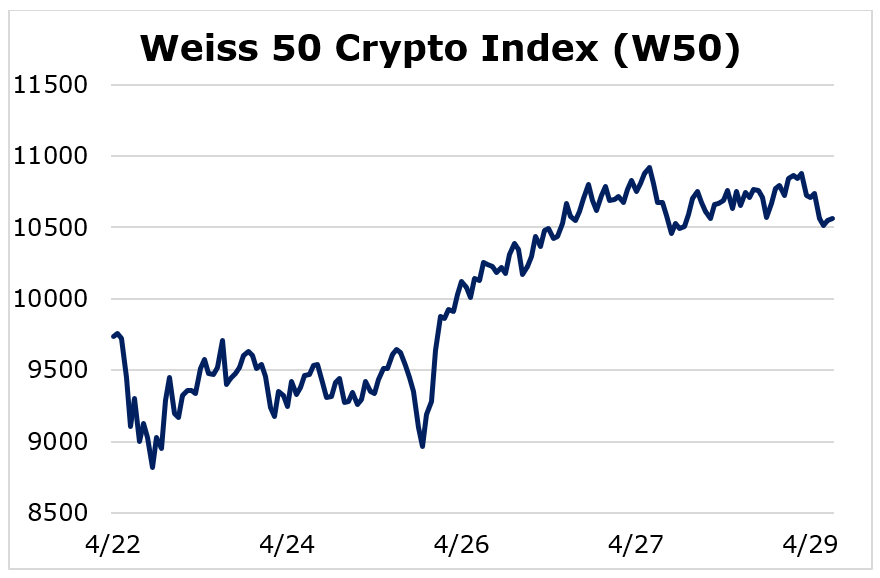 The Weiss Crypto 50 Ex-BTC Index (W50X) rose 12.76%, as Bitcoin notably lagged the broader market again.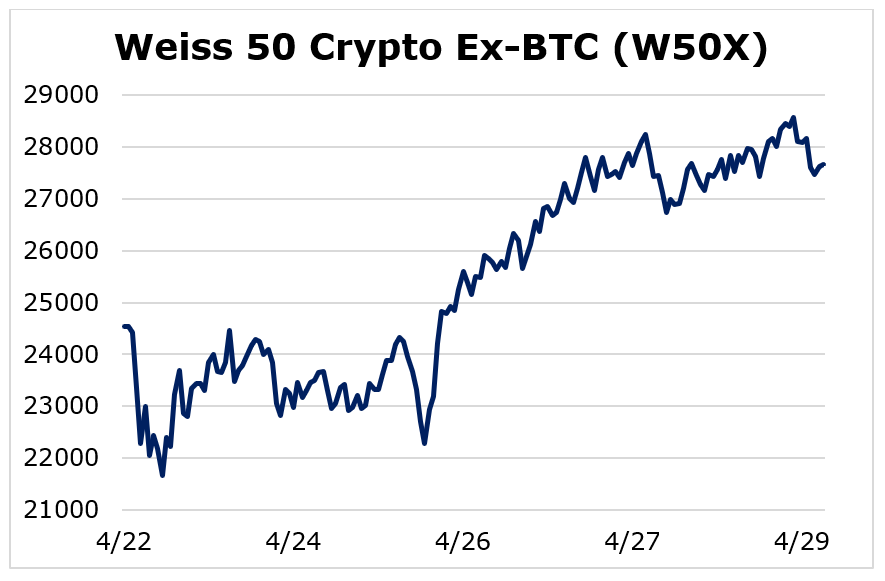 Breaking down performance this week by market capitalization, we see that the large- and mid-caps couldn't keep up with the smallest cryptocurrencies.
The Weiss Large-Cap Crypto Index (WLC) gained 10.40%, but Bitcoin's underperformance kept it from maintaining pace with the mid-caps.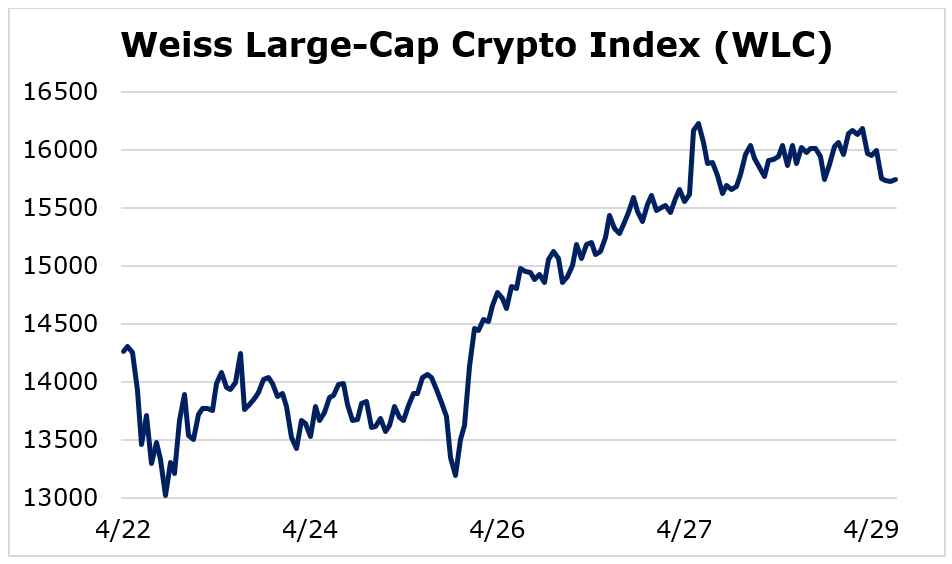 Mid-sized cryptocurrencies jumped this week as the Weiss Mid-Cap Crypto Index (WMC) climbed 15.04%.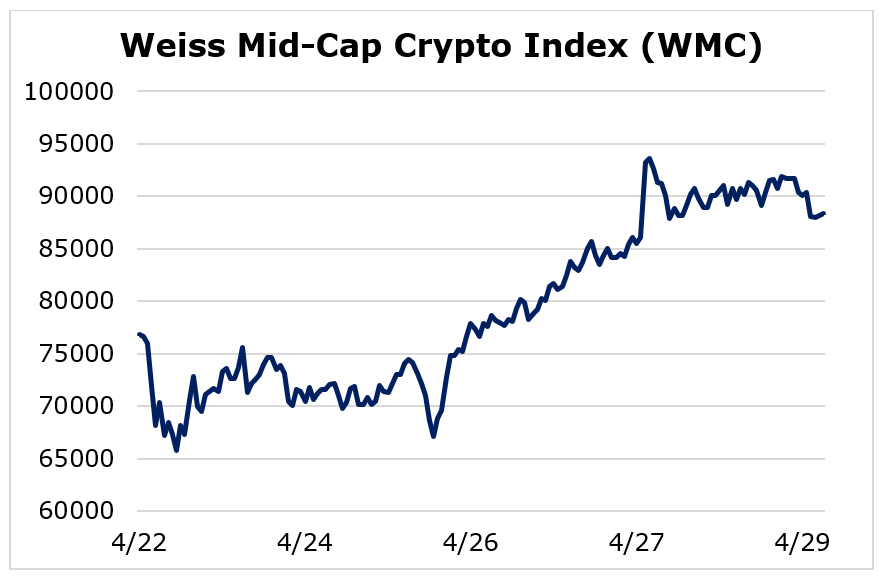 Small-cap cryptocurrencies were the top performers again, with the Weiss Small-Cap Crypto Index (WSC) soaring 24.61% higher.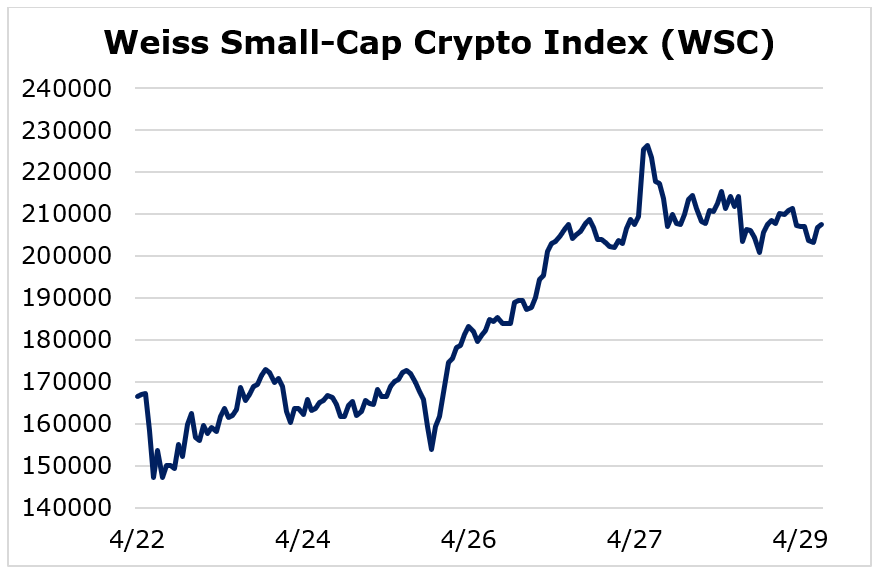 It's no surprise to see the smallest and mid-sized altcoins continue to outperform the large-caps. Bitcoin's market dominance is waning, which is to be expected during altseason.
Ethereum notably managed to perform in line with the broader market, a positive development considering the significant outflows into ERC-20 tokens using decentralized exchanges.
Since we are still in the middle of altseason, we expect these trends to continue until we see evidence of another shift.
Notable News, Notes and Tweets
• Tyler and Cameron Winklevoss, co-founders of Gemini's crypto exchange, have announced a partnership with Mastercard Inc. (NYSE: MA) to provide 3% purchase rewards in Bitcoin for their new credit card.

• Pomp notes that the flow of Bitcoin buying is transferring from speculators to strong hands, a bullish sign for upcoming price action.

• Coinbase is now allowing crypto purchases via PayPal Holdings, Inc. (Nasdaq: PYPL).
What's Next
The crypto market rebounded this week after fear of the impact of potentially significant capital gains tax increases subsided. This makes sense, as traditional equity markets also quickly regained their losses in the near-immediate aftermath of the announcement.
Altseason is looking strong, with investors continuing to look for massive gains in less-established projects.
While it will be important to monitor Bitcoin's dominance of the crypto market to gauge the health of this altseason, there doesn't appear to be any meaningful concern yet.
The downward pressure that Bitcoin faces from its altcoin trading pairs is a headwind for the King of Crypto, but institutional demand on corporate balance sheets could easily compensate.
For now, we'll continue to observe and relay the most important developments of this exciting altcoin season, which is likely still in its early stages.
And feel free to comment on and/or question us about Ethereum, Bitcoin, altseason and anything else on your mind about crypto here.
Best,
Sam