Ethereum's Big Upgrade
By Alex Benfield on August 06, 2021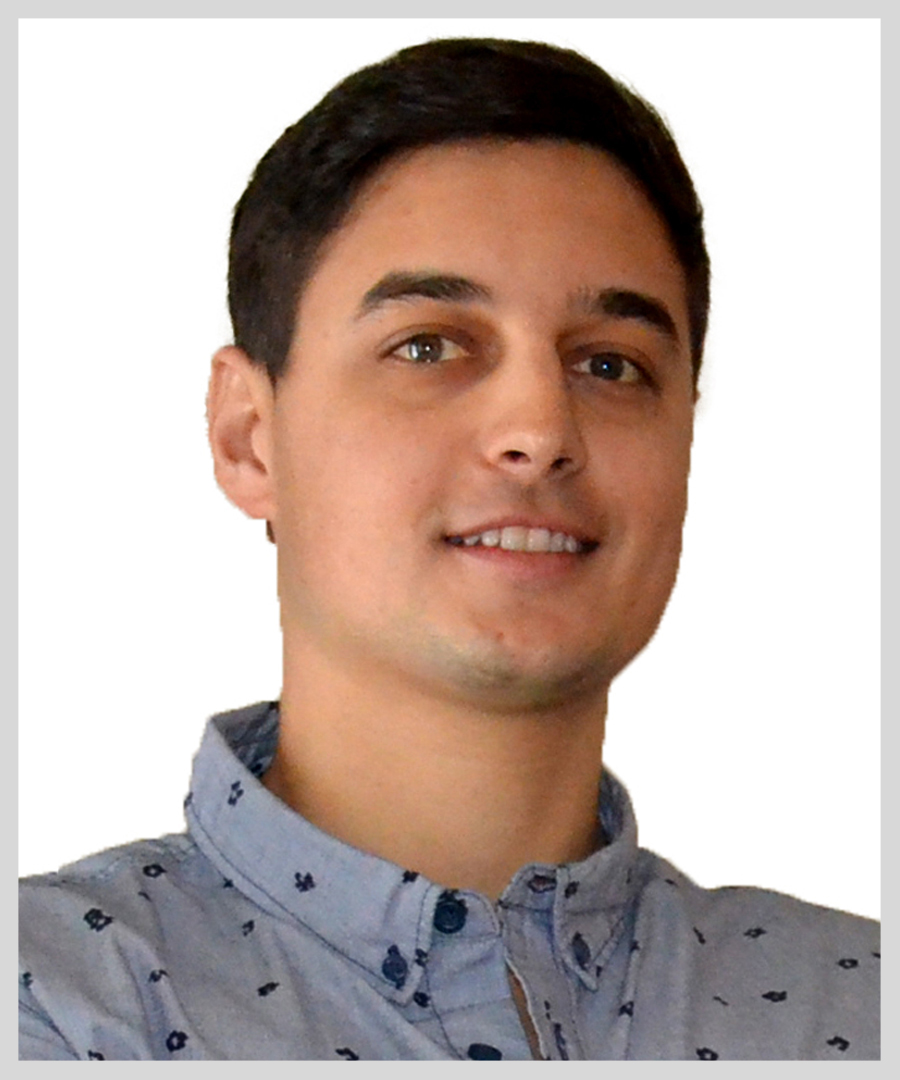 • Ethereum (ETH, Tech/Adoption Grade "A") has skyrocketed this week on the news of its big upgrade, EIP-1559.

• Mid-cap altcoins are the big winners of the week, gaining about 12% on the week.
Since July 21, Ethereum has been on a blazing ride, recording only one day in the red over that timeframe.
ETH is currently breaking through resistance at $2,850 and looks like it will finally break out of the range it has been in since mid-May.
Here's ETH in U.S. dollar terms via Coinbase Global, Inc. (Nasdaq: COIN):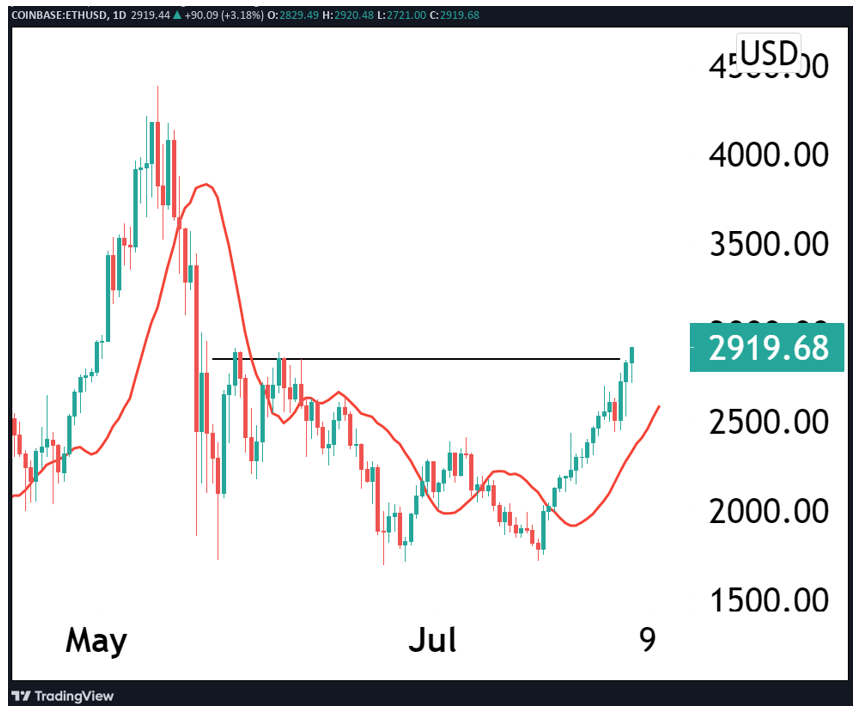 This action is taking place in the midst of some massive news stories.
Let's start with what's happening in Washington.
Currently sandwiched in the U.S. infrastructure bill is legislation that would impact the know-your-customer (KYC) rules for most cryptocurrency companies.
Now, we've said in the past that some regulation can be good ... if it benefits the users. But this proposal is so wide-reaching — with language so vague — that it had to be written by politicians who know nothing about crypto.
In essence, this legislation could demand that even miners and decentralized finance (DeFi) protocols go through the process of KYC with all of their users — something that is impossible for both miners and DeFi protocols.
Not at all the smart regulation we believe could be beneficial.
Luckily, there is a push from some senators to make an amendment to the bill that would clarify the language. But that isn't guaranteed.
What is guaranteed is that politicians will keep seeing know-nothing politicians trying to stick their hands in crypto. My opinion: It's time for the crypto industry to invest in lobbying, much like big tech is doing now.
Our second big news of the week is much more bullish ... and fun.
Ethereum's London hard fork, the one containing EIP-1559, finally went live Thursday morning with no issues.
This is huge for Ethereum.
For starters, it shows that the Ethereum developers are able to follow a schedule to get code upgrades out on time. That hasn't always been the case.
Additionally, EIP-1559 will change the supply rate of ETH by burning it and cutting down on inflation.
Since the upgrade went live yesterday morning, roughly 6,000 ETH have been burned. That's a tremendous rate!
Ethereum now has an increasing demand and a decreasing supply rate. Basic economics tells us that price will go up.
Ethereum's successful week is reflected in our index roundup. The Weiss 50 Crypto Index (W50) jumped up by 8.64% this week as Ethereum led the charge.
But the Weiss 50 Crypto Ex-BTC Index (W50X) really showcases ETH's domination, as it increased by 11.72%. This confirms Ethereum and the altcoins actually outpaced Bitcoin (BTC, Tech/Adoption Grade "A-") over the last week.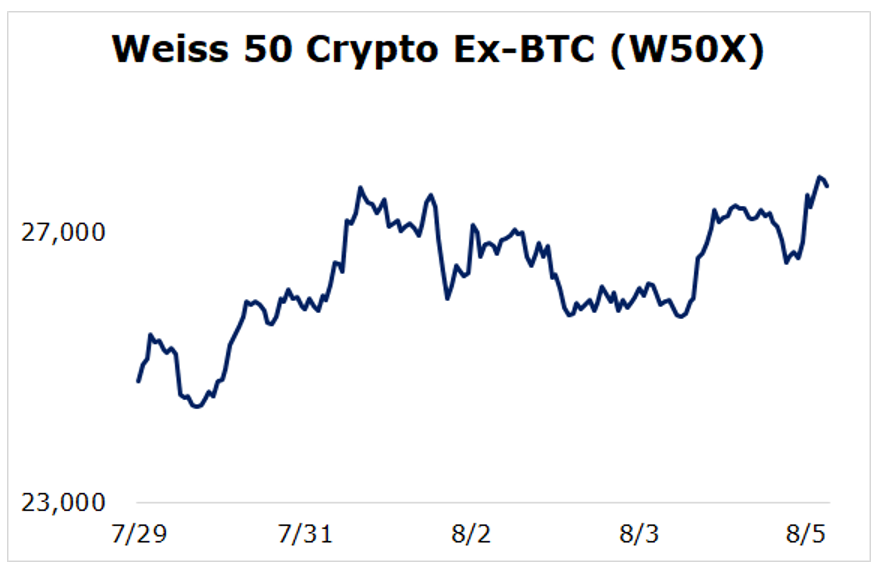 Breaking down this week's performance by market capitalization, all groups are up over the last week. Interestingly enough, mid-cap cryptos grew the most this week, followed by small-cap and then large-cap cryptocurrencies.
The Weiss Large-Cap Crypto Index (WLC) rose by 8.35%, a smaller increase than both the medium- and small-cap groups as Bitcoin took a breather after failing to break through resistance.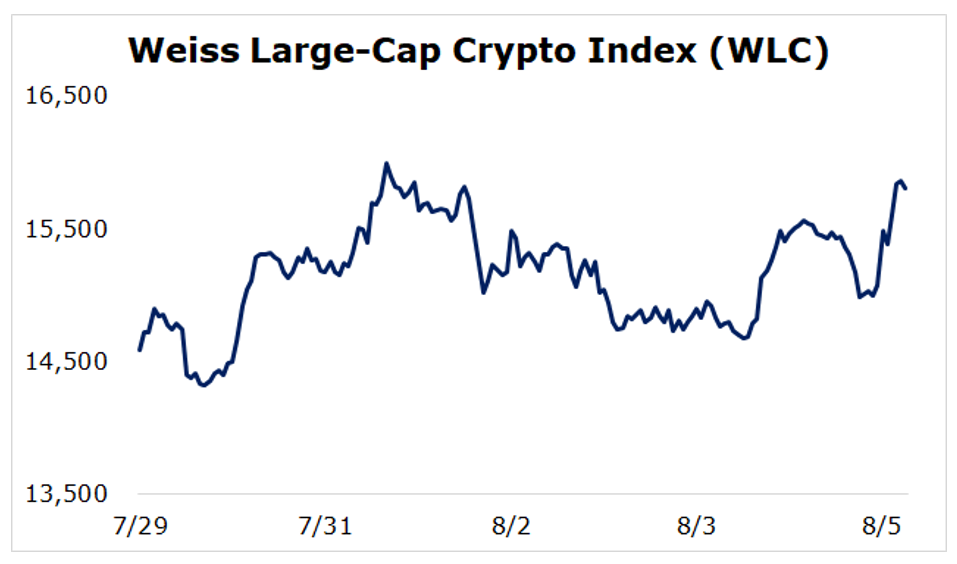 The mid-caps were this week's best performers, as the Weiss Mid-Cap Crypto Index (WMC) shows. This group rose by 11.96%.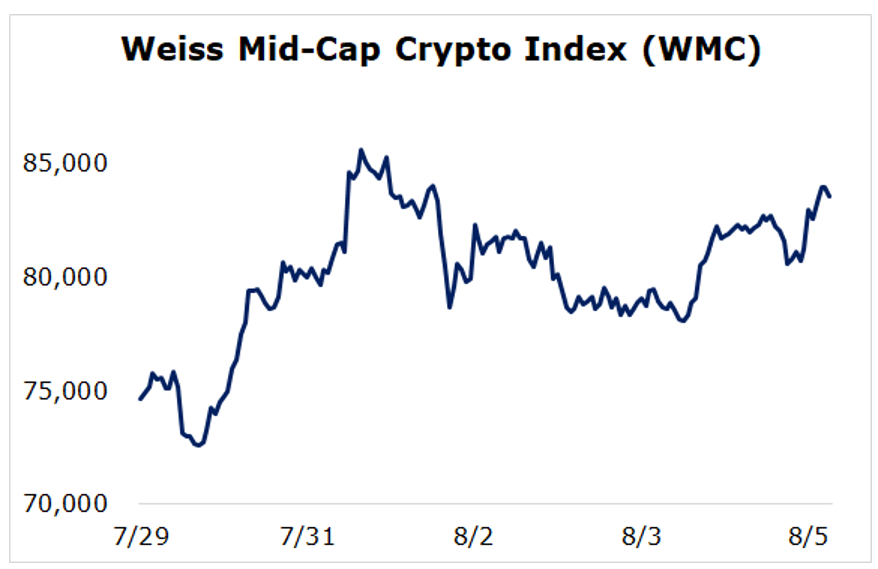 This week's small-cap altcoin performance, as shown in the Weiss Small-Cap Crypto Index (WSC), was also strong, gaining 9.83%.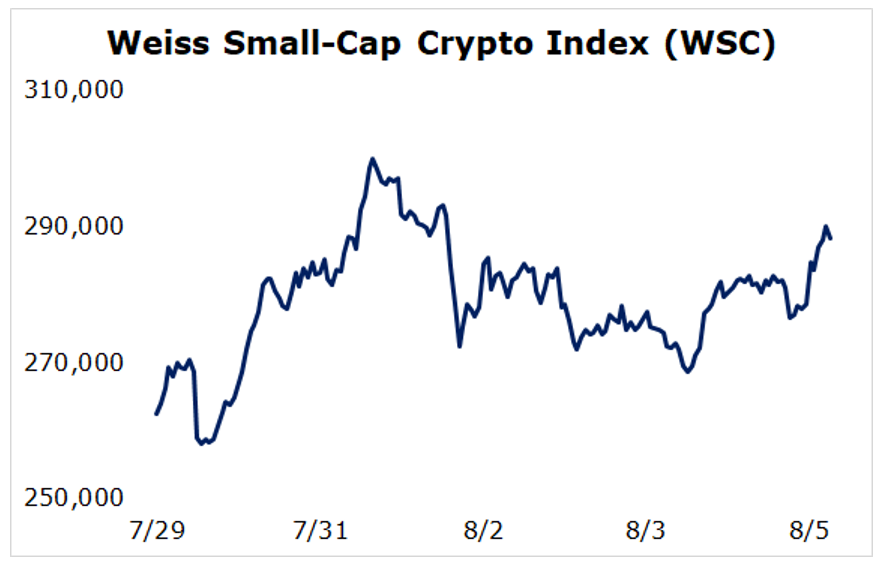 Notable News, Notes and Tweets
• People are excited about the burn rate of ETH, which you can follow with this tracker.

• Not every senator agrees with the bad crypto legislation.

• Remember non-fungible tokens (NFTs)? Well, the rarest cryptopunk, aka the oldest NFT project, is on auction for $171 million.
What's Next
This has been an eventful week for cryptocurrencies. And just a glance at our index charts show it was an extremely bullish week. And sentiment reflected that ... barring infrastructure bill fears.
It will be very interesting to see how that plays out, but we aren't too worried about it one way or the other. Crypto finds a way.
Apparently, the market isn't concerned either, as green candles are abundant, and both BTC and ETH have now broken out of the ranges they've been in for months.
The stage is set for the next leg of the bull market. Enjoy.
Best,
Alex