Ethereum's Breakout Is Yet Another Bullish Sign
By Alex Benfield on February 18, 2021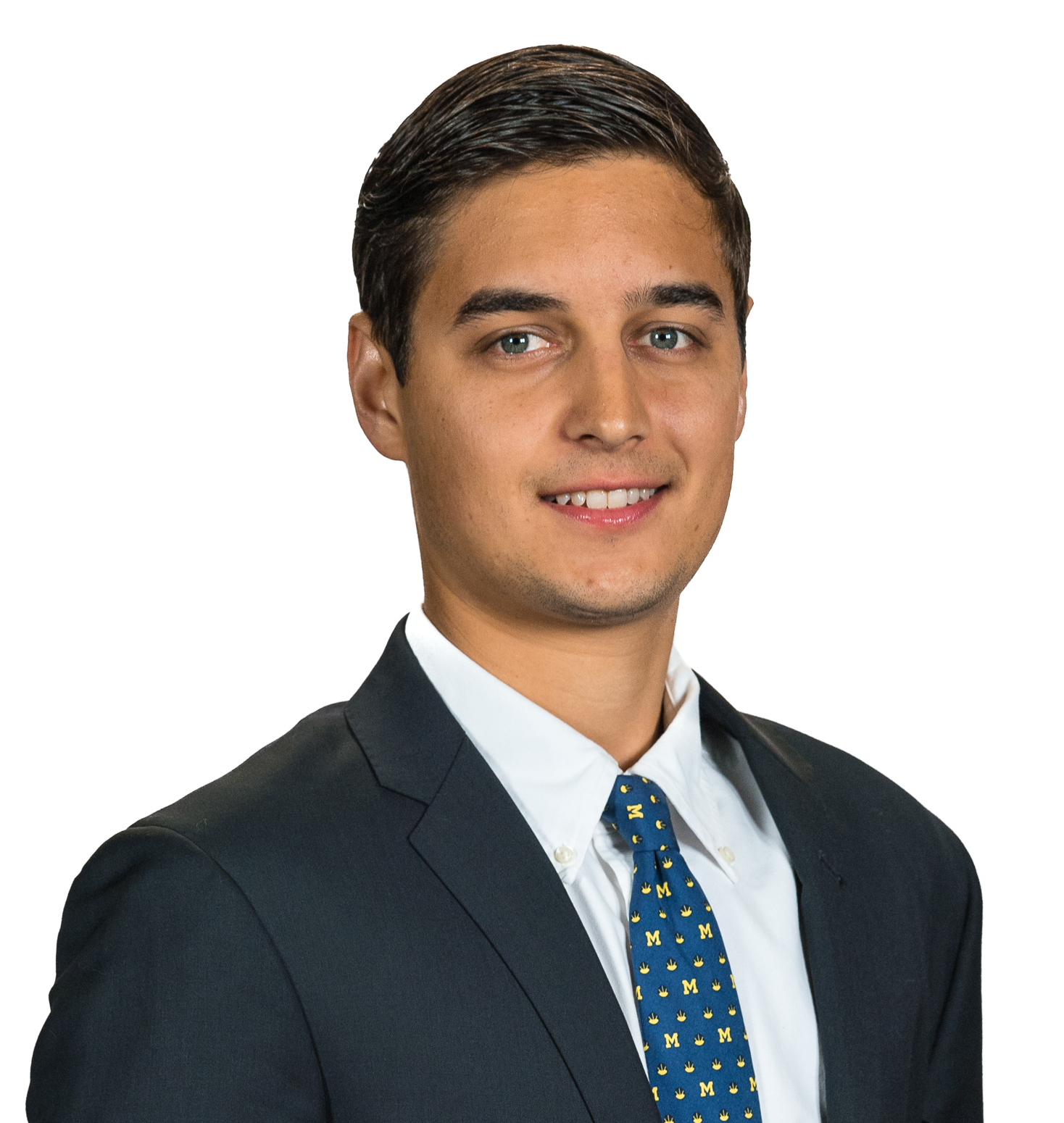 • Ethereum (ETH, Tech/Adoption Grade "A-") finally broke through key resistance at $1,800 and set new highs north of $1,900.

• Bitcoin (BTC, Tech/Adoption Grade "A-") reached a new all-time high above $52,000.

• Binance Coin (BNB, Tech/Adoption Grade "C-") continues its red-hot run, as it hit highs north of $200 today.
Ethereum had been struggling to definitively break above the $1,800 level for more than a week. Today, the No. 2 cryptocurrency finally smashed through that resistance, and the rest of the altcoin market followed suit.
Many altcoins have pushed out to new highs – clear evidence altcoin season is not over yet.
The fact that both Bitcoin and Ethereum are trading at or near all-time highs at the same time is just about as bullish a signal as possible for the entire cryptocurrency complex.
BTC and ETH tend to set the direction of the entire market; they are the first-movers in any market cycle. While ETH is trading at an all-time high, it's only trading about 35% above its 2017 cycle high, whereas Bitcoin is trading around 160% higher than the high around $20,000 it made in December 2017.
This goes to show that Ethereum has a lot of room to grow if it's to mirror Bitcoin's gains in this market cycle. The first step is breaking above $2,000.
Here's ETH in U.S. dollar terms via Coinbase: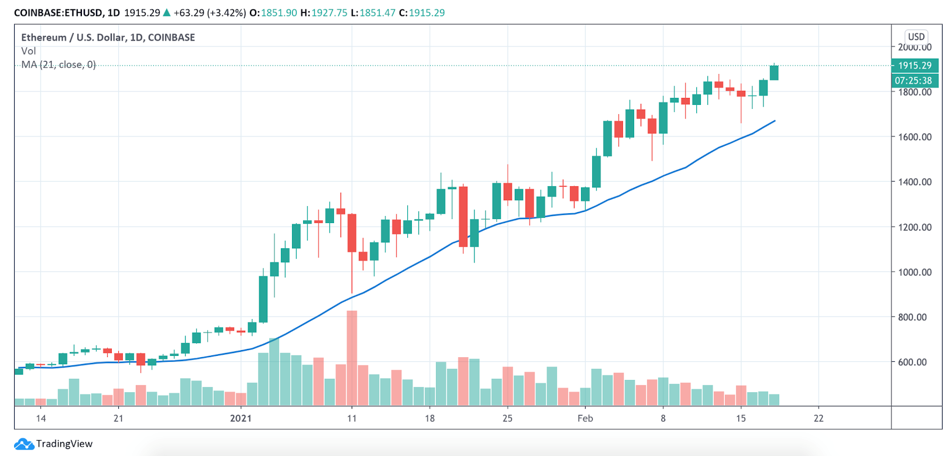 Bitcoin is in the midst of a stunning parabolic run, setting new high after new high.
Corporations jumping into the market as they shift portions of their balance sheets into Bitcoin is validation of cryptocurrency as an asset class in real time.
BTC just recently broke through the hugely important $50,000 level and has since set a new high above $52,000. It's still trading well above its 21-day moving average and is now in full-on price discovery mode.
The next upside target is $60,000. Hitting it soon could set off yet another parabolic shift in the market.
Here's Bitcoin in U.S. dollar terms via Coinbase: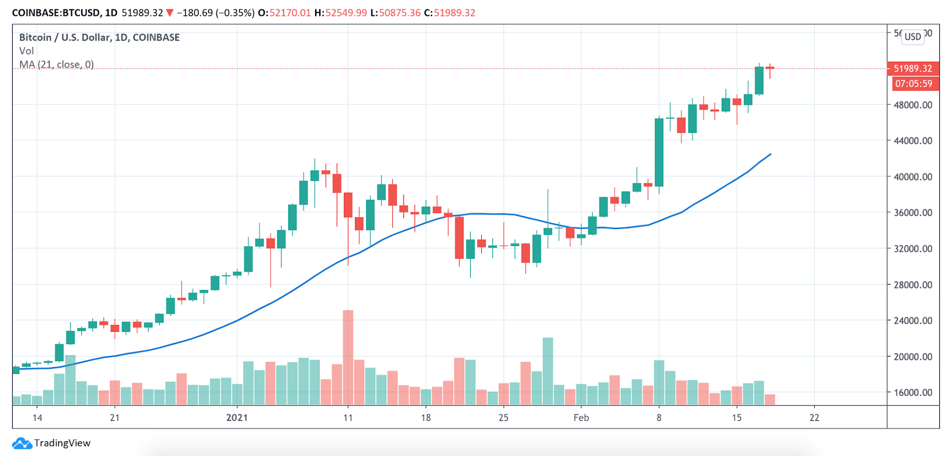 Binance Coin is up more than 25% on the day, as it broke the $200 level for the first time. This comes as new decentralized finance applications built on the Binance Coin blockchain have gained some popularity, boasting lower fees than Ethereum DeFi apps.
BNB crossed above its 21-day moving average in late January and has since set new all-time high after new all-time high. It's also in price-discovery mode, as investors are showing their appreciation for its utility.
Here's BNB in U.S. dollar terms via Binance: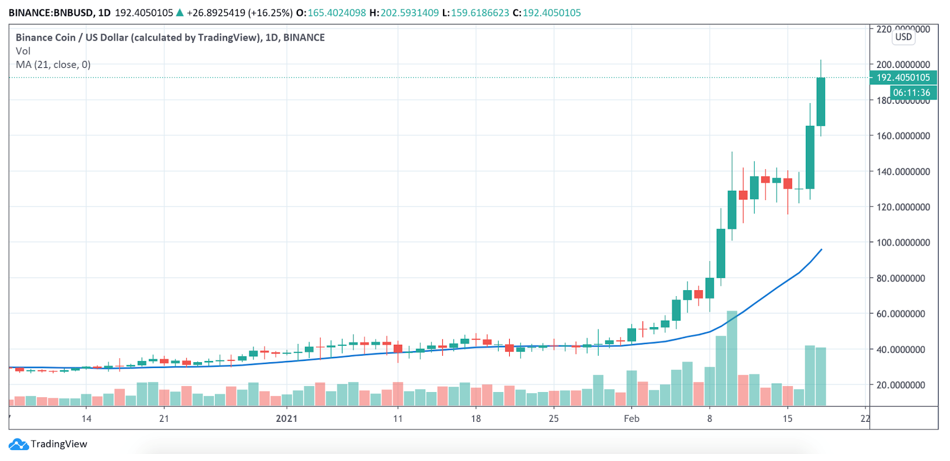 Notable News, Notes and Tweets
• Binance CEO Changpeng Zhao celebrates BNB's recent price surge.

• Cameron Winklevoss highlights the difference between traditional markets and the cryptocurrency market.

• Messari reports that DeFi borrowing volume has hit a new high at $7.6 billion.
What's Next
Bitcoin's strength is definitely on display. But we're still in the beginning stages of an altcoin season today, as evidenced by the recent gains in both Ethereum and Binance Coin. It's a promising sign that BTC is seeing new inflows of money and is still setting new highs, even as money flows into ETH and other altcoins.
As more investors and more money pour into the market, the potential for a wild rise in altcoin prices grows.
Factors are in place that could make this a historic altcoin season. Let's not miss out.
Best,
Alex