How to Handle a Crypto Correction
By Juan Villaverde on September 04, 2020
Crypto markets are firmly in correction mode, as the overbought conditions we've been noting in this report for weeks finally gave way to what will, once we're out of it, be seen as a healthy dose of selling.
Last week, we noted it was too early to call a correction, since DeFi (decentralized finance) tokens were still going strong despite clear signs of weakness from market leaders, especially Bitcoin (BTC, Tech/Adoption Grade "A-").
Well, with BTC finally crossing below 11,000 last night and trading slightly above the 10,000 level as I write, we can now say that crypto markets, as a whole, are indeed finally in correction territory.
Note that we expect to see support at the 10,000 level, at least in the short term.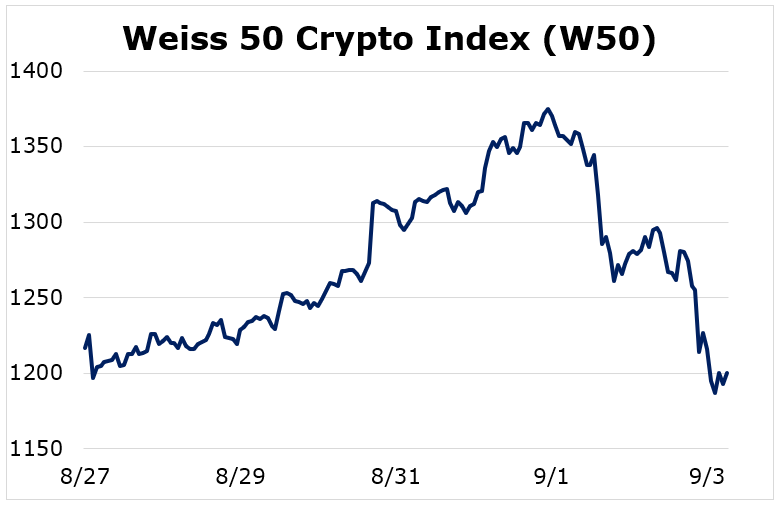 It's still early to call for the low, however, as we note that our Weiss 50 Crypto Index (W50) was actually flat on the week. A loss of just 1.34% despite severe down-moves for both BTC and Ethereum (ETH, Tech/Adoption Grade "A") doesn't look all that bad. But it was up 13% through mid-week.
Stripping out Bitcoin, we notice similar performance from the altcoins, as the Weiss 50 Ex-BTC Crypto Index (W50X) posted a modest gain of 2.24%.
That may not necessarily shout "correction!" until you notice this index was up almost 20% for the week before the selling started in the last couple days.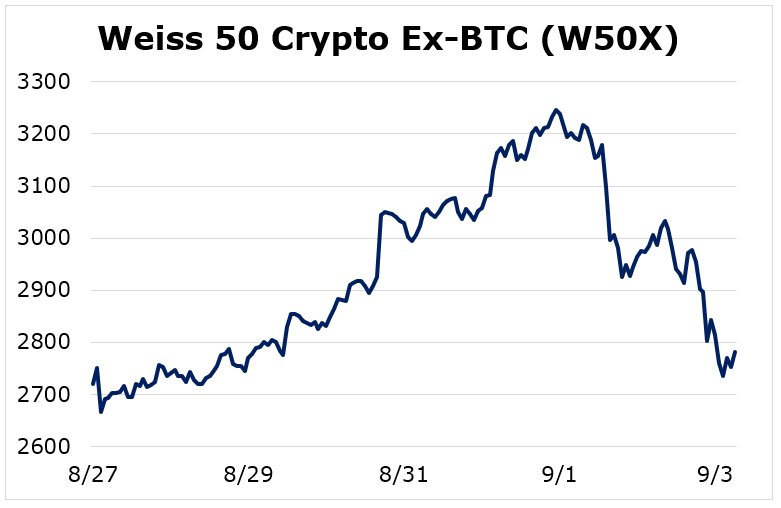 Here's the industry split based on market cap …
The Weiss Large Cap Crypto Index (WLC) was down 2.12% on the week.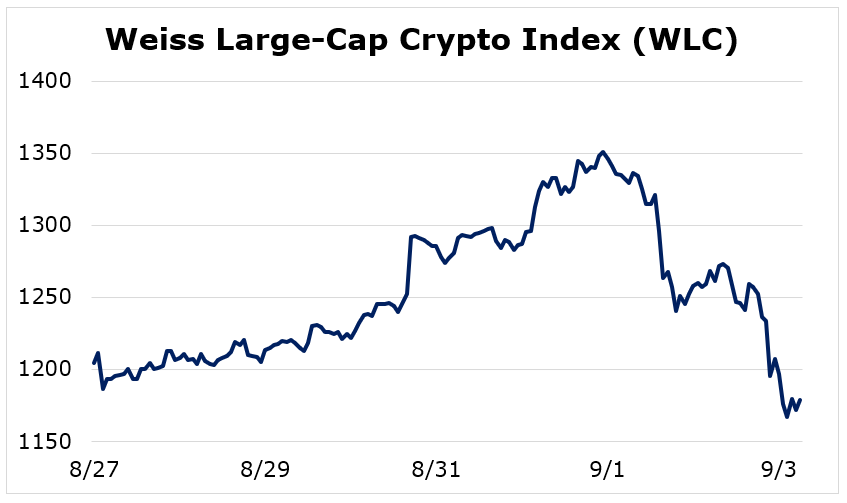 The Weiss Mid-Cap Crypto Index (WMC) was virtually flat, posting a 0.26% positive change over the seven-day stretch ended Thursday.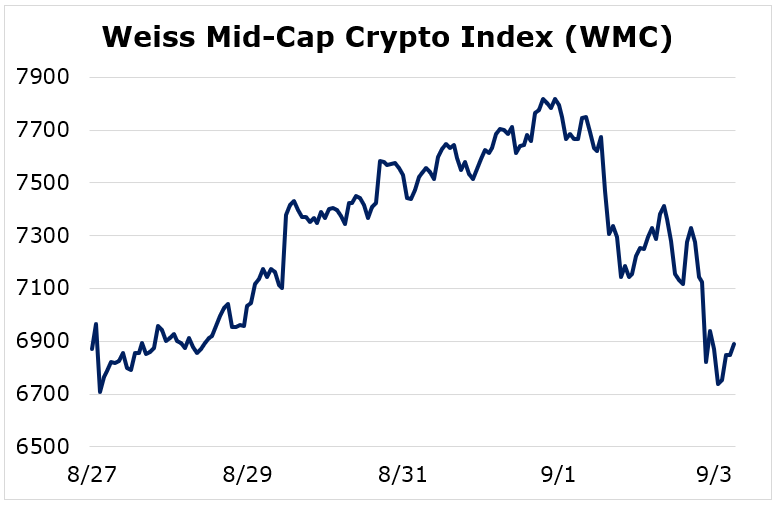 Finally, more weakness was revealed via the smaller altcoins, as the Weiss Small-Cap Crypto Index (WSC) was down 10.37% for the week.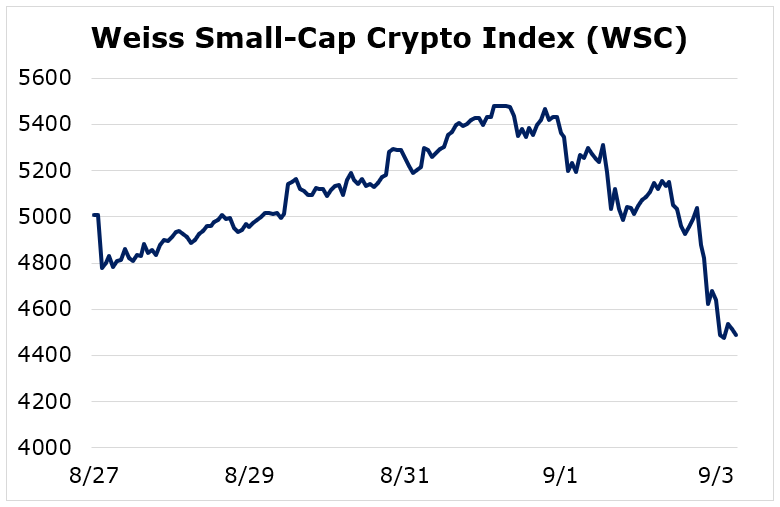 Overall, the correction we've been expecting is finally here, as virtually all our indexes fell from double-digit gains through mid-week and wound up flat or slightly lower by Thursday.
We expect to see lower lows over the course of the next week or two. But it's important to get beyond the fog of short-term weakness.
From a bigger-picture perspective, we note that the rally we saw between the end of July and the end of August was strong enough to turn our timing models bullish on crypto assets in the next few months.
So, we expect this correction to end before the end of September — and probably earlier than that. And we expect higher highs, still, as we head into the last quarter of 2020.
The bottom line is we see Bitcoin — the biggest player in the sector — finally trading above the all-important 13,000 level by year's end.
Best,
Juan
Weiss Ratings is the only financial rating agency that covers cryptocurrencies. Click here for more in-depth information about Weiss Crypto Ratings, including the Weiss Crypto Price Indexes and crypto-asset reviews.