Is It 'Be Greedy When Others Are Fearful' Time?
By Juan Villaverde on June 26, 2020
Last week was one of consolidation for crypto markets, as most sub-indexes moved sideways during the seven-day trading week ended Thursday, June 25.
That continues a pattern established in late May and there's little to suggest either a breakout or a breakdown is on the horizon — even as crypto's long-term case grows stronger.
It's no surprise, then, that our Weiss 50 Crypto Index (W50) — a broad benchmark of the asset class — was down 1.27% this week. In a still-maturing crypto market, a 1.27% move up or down is basically "unchanged."
The weekly chart reveals some intraday volatility — the same price action we've seen for about a month now …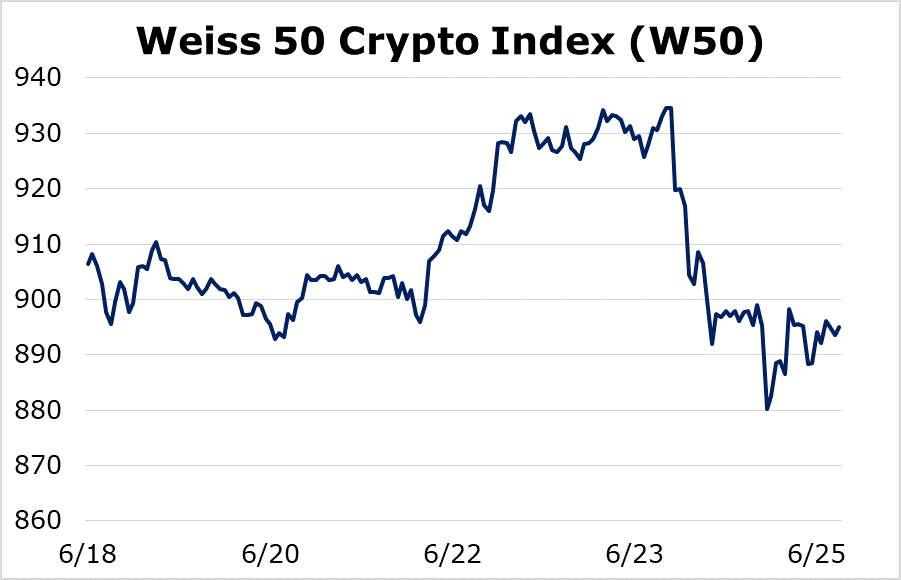 When we strip out Bitcoin, we see a similar pattern: relatively little net movement. Indeed, the Weiss 50 Ex-BTC Crypto Index (W50X) was down 1.20% during the trading week that ended yesterday.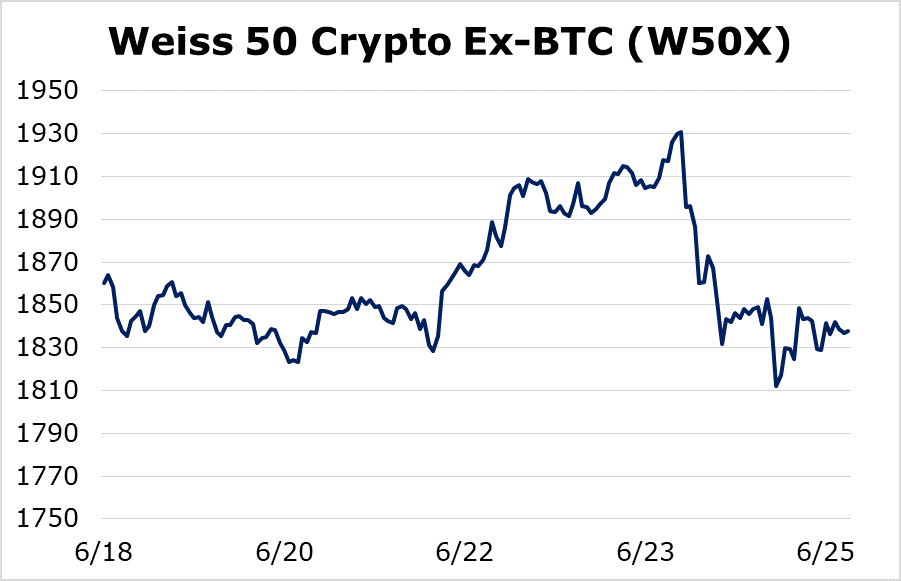 Splitting the sector by market capitalization reveals a little more of the same. The Weiss Large-Cap Crypto Index (WLC) was down 1.65%.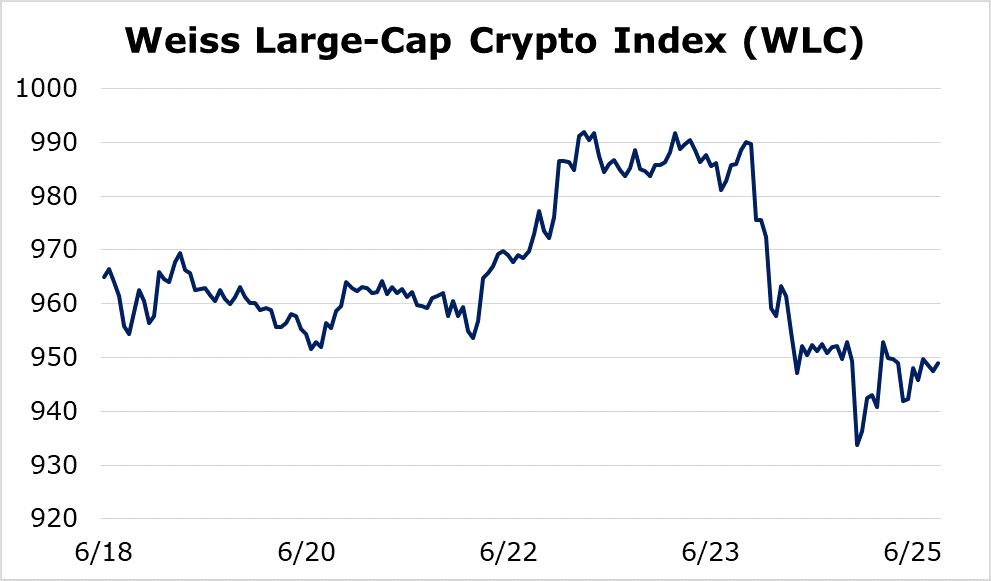 But the Weiss Mid-Cap Crypto Index (WMC) was up 0.67%.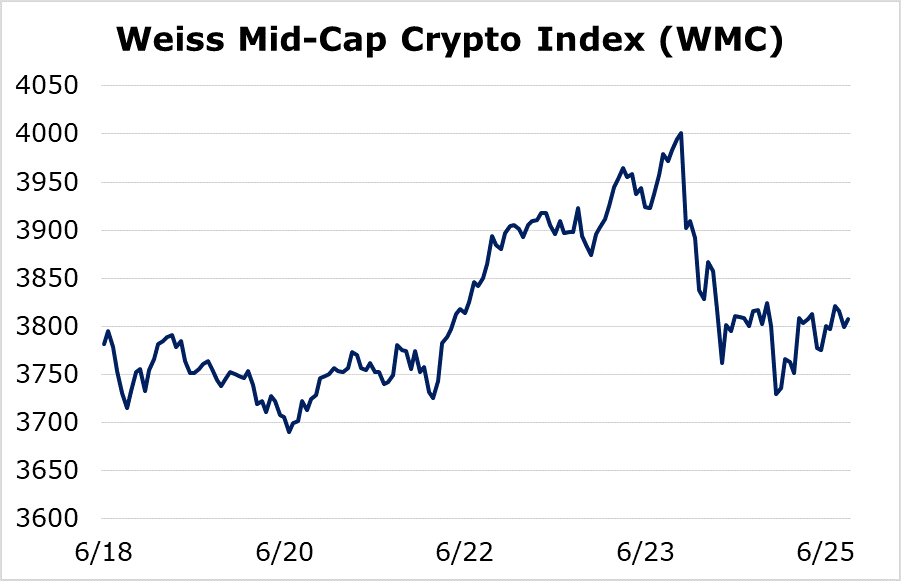 And, finally, the Weiss Small-Cap Crypto Index (WSC) was up slightly as well, adding 0.66% on the week.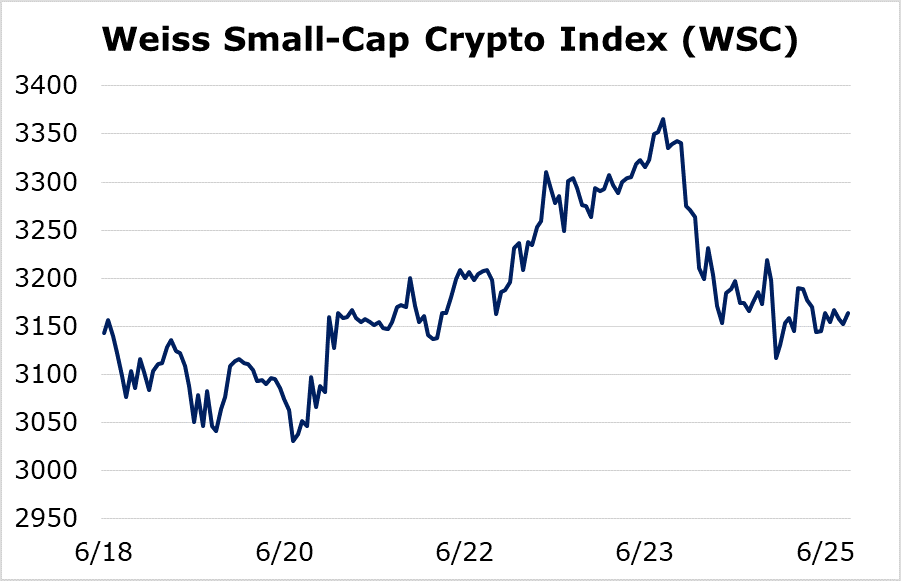 Broadly speaking, we saw the same thing across all sub-indexes: a rally toward the middle of the week followed by a selloff that left asset values essentially unchanged for the seven days.
But let's drill a little deeper and note the relative strength in the mid-caps and the small-caps. They rallied a little more and a little longer than the large-caps.
Indeed, over the past month, highly speculative names have appeared to lead some attempts at a breakout to new highs — led by names in the up-and-coming "Decentralized Finance" (DeFi) sector. Some DeFi stars have risen dramatically over the past few weeks.
As is often the case, this "mini crypto bubble" has thus far shown to be an isolated event. DeFi is a legitimate trend, and winners will emerge in time. But short-term bubbles like these tend to correlate with momentum moves in other risk assets, such as equities. And, sure enough, stocks have generally rallied the past few weeks.
Speaking of correlations, we're seeing traditional safe havens such as gold and U.S. Treasuries once more outperform equity indexes over the past couple weeks. That type of price action calls into question whether the economic recovery will be as swift as people had hoped.
The fact that Bitcoin and other leading crypto assets are also showing weakness tells us that — at least in the short term — investors are treating crypto as a risky asset class.
Given recent history, should fear come to dominate global markets again and drive a full-on "risk off" liquidation event, leading crypto assets like Bitcoin and Ethereum will trend down as spooked investors run for cash.
We'll have more as the situation develops and price action becomes clearer.
Suffice to say, for now, another market event like the one we saw in February and March will have lasting repercussions ... among them a more prominent place in the global asset landscape for Bitcoin and other cryptos.
Best,
Juan
Weiss Ratings is the only financial rating agency that covers cryptocurrencies. Click here for more in-depth information about Weiss Crypto Ratings, including the Weiss Crypto Price Indexes and crypto-asset reviews.