Is It the Dawn of the Age of Ethereum?
By Alex Benfield on April 27, 2021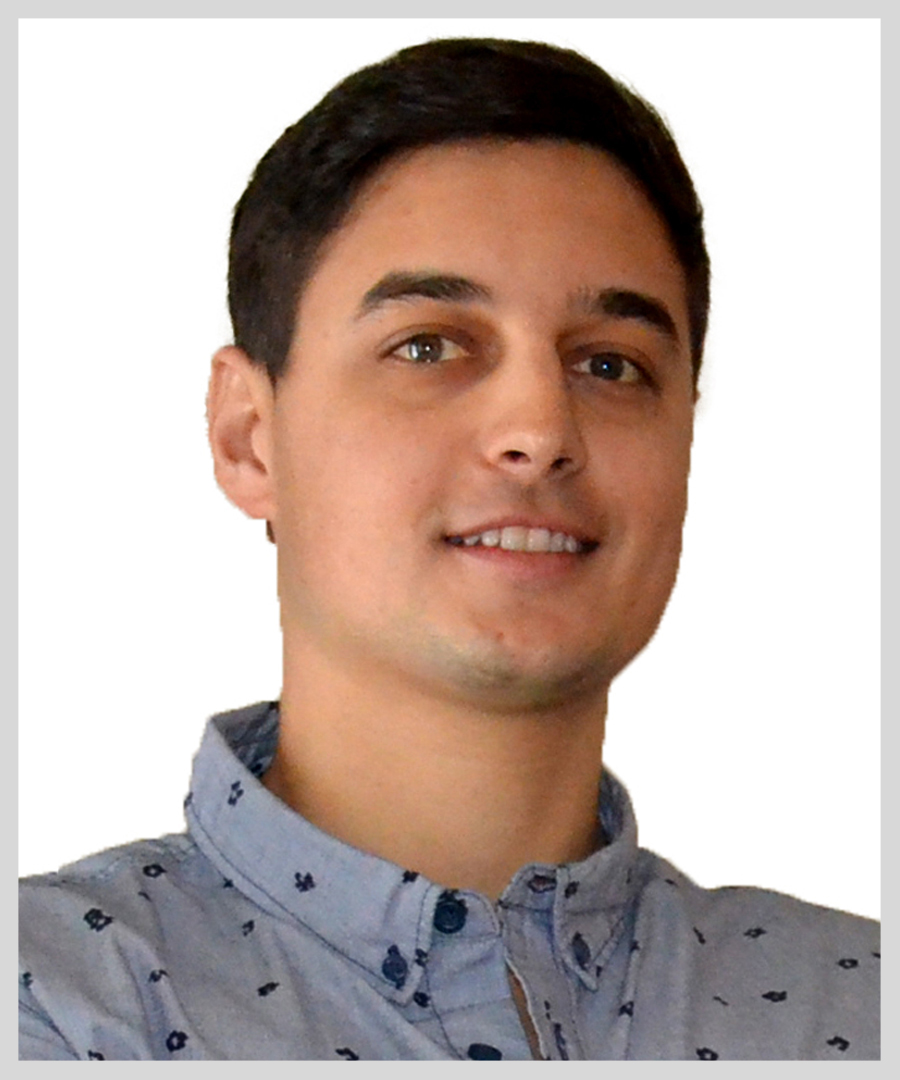 Is the cryptocurrency market undergoing a meaningful change in leadership? For the second straight week, the No. 2 crypto is leading the way, setting a shining example for altcoins.
• Bitcoin (BTC, Tech/Adoption Grade "A-") might have found the floor after its recent price dip; the question is, will this rally last?

• Ethereum (ETH, Tech/Adoption Grade "A-") can't stop making headlines, as it's breaking out today amid what looks like a surge to new all-time highs.

• Uniswap (UNI) set new highs today and looks ready to lead the decentralized finance (DeFi) sector during the next altcoin push.
Bitcoin is up more than 15% from its Sunday low, having risen from $47,000 up to around $55,000. However, BTC is still trading below its 21-day moving average, and the power dynamic hasn't shifted in the bulls' favor just yet.
Again, the most important thing to look for during this new push upward is whether the bulls can set a new all-time high. If a new high isn't set before the next correction, then BTC would record a lower low followed by a lower high — likely the early warning sign of a longer, more drawn-out correction.
On another note, yesterday marked 10 years since Satoshi Nakamoto's last message to the world before his notorious disappearance. Imagine what he'd have to say about his legacy today…
Here's BTC in U.S. dollar terms via Coinbase Global, Inc. (Nasdaq: COIN):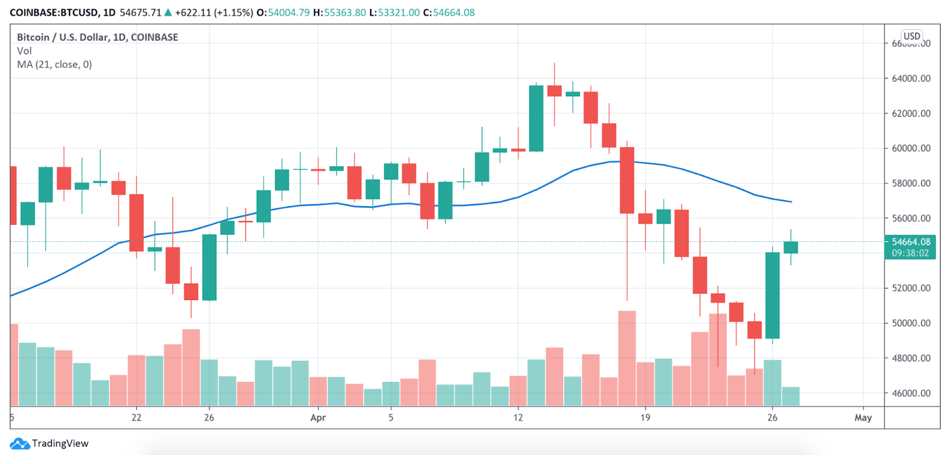 Ethereum has also had a good start to the week, up more than 10% since Monday morning. ETH also had a much better weekend of trading than BTC, and it's closing in on its previous all-time high.
There's so much bullish news surrounding Ethereum and development of the smart-contract platform, but the flavor of the week is the network gas fees due to the recent increase in the gas limit. Fees were cut by almost a quarter of last week's highs, and DeFi users are happy about the savings.
The ETH price chart looks very bullish right now, and a parabolic breakout wouldn't be too surprising. Ethereum is definitely the virtual currency to watch this week.
Here's ETH in U.S. dollar terms via Coinbase: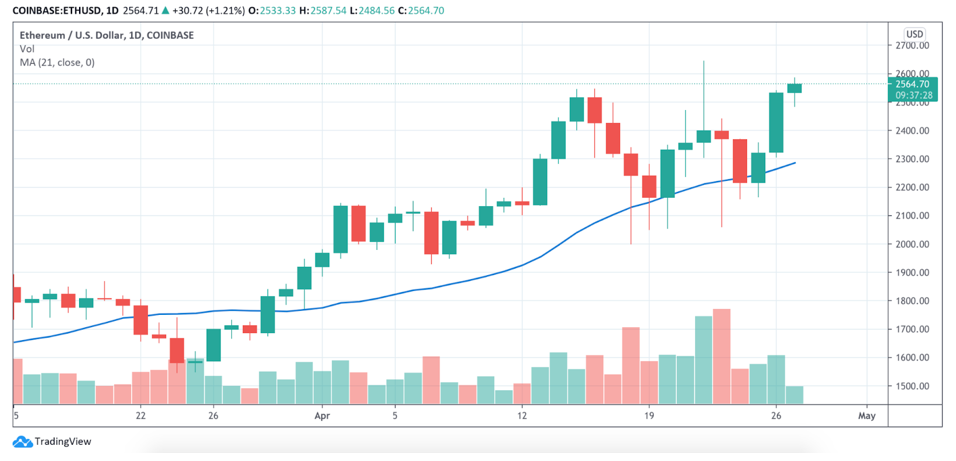 Hayden Adams' creation, Uniswap, has really bounced sharply off its weekend low of $30, rising 30% in the last three days to its current price around $40. UNI set a new all-time high earlier today and appears ready for another leg higher.
The Uniswap protocol has been growing in popularity all year long and is set to benefit from Ethereum's lower gas fees.
DeFi protocols were the hot commodities of the summer 2020 altcoin season; as this new altseason picks up, DeFi might blast off once again.
Here's UNI in U.S. dollar terms via Coinbase: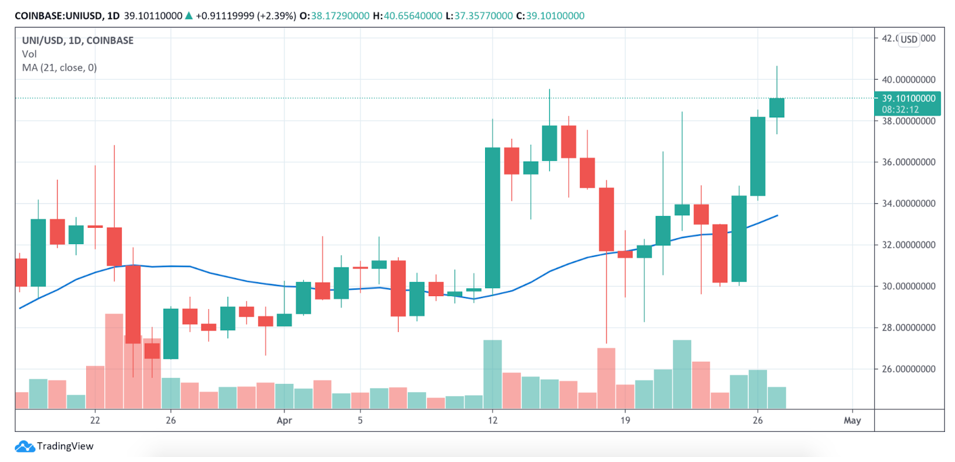 Notable News, Notes and Tweets
• Tesla, Inc. (Nasdaq: TSLA) sold some of its Bitcoin holdings, but there's more to the story.

• Speaking of Tesla, Pomp found the company's first-quarter earnings conference call quite humorous.
What's Next
We talked a lot about Ethereum last week and the role that it plays during altcoin season. ETH held up very nicely during last weekend's price dip and bounced back quickly and sharply to levels near its all-time high.
We've seen a trend of higher highs and higher lows on the Ethereum price chart lately, and that's bullish action. What we've yet to see is a parabolic breakout. If that happens, it'll spark a wild altcoin rally.
Elsewhere, Bitcoin has now set a lower low and is at risk of setting a lower high, action that would indicate a medium- to long-term top. That would also likely be the medium- to long-term correction we've been calling for since the start of 2021 and would affect most trading strategies. Sideways or bearish price action for Bitcoin opens up the door to altcoins.
Indeed, the charts seem to be lining up for what could be a historic altseason.
Best,
Alex