Post-Halving Pause Refreshes Crypto Assets for Push to New Highs
By Juan Villaverde on May 15, 2020
Bitcoin's third "halving" shook crypto markets last week, as the industry heavyweight once again demonstrated that it's built to be a hard store of value for the long term.
As a practical matter, the halving cut the creation of new supply of Bitcoin by half, from 12.5 Bitcoin roughly every 10 minutes to 6.25.
So, we're another hard-coded step toward issuance of the only 21 million Bitcoin that will ever come to existence. And the bulk of it will be created in the next 12 years.
Traders initially "sold the news," as our Weiss 50 Crypto Index (W50) at one point was down more than 20% on May 11, the date of the halving.
It recovered in the following days, eventually finishing the week that ended Thursday down just 7.71%.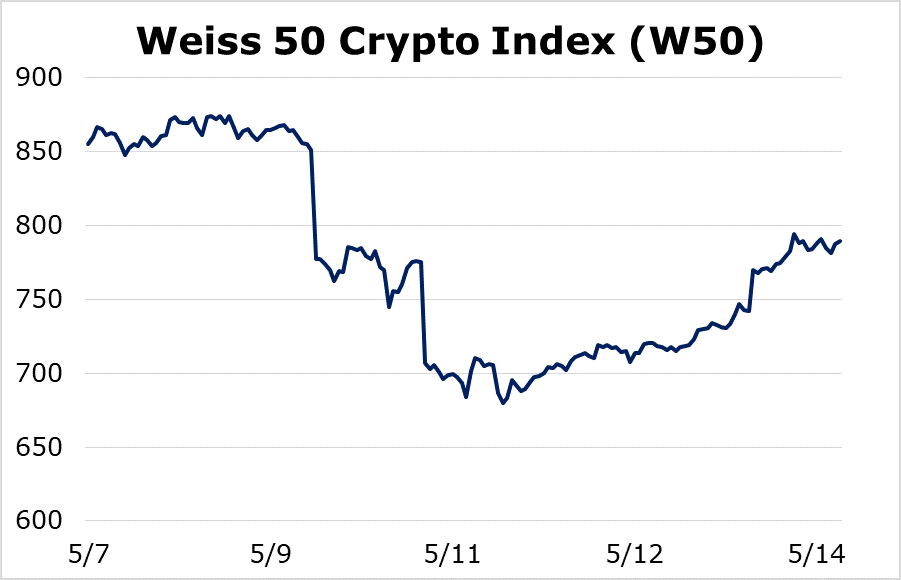 This intra-week volatility wasn't limited to Bitcoin, as the Weiss 50 ex-BTC Crypto Index (W50X) also ended the week down 10.26%. It also suffered and came back from a greater-than-20% slide on May 11.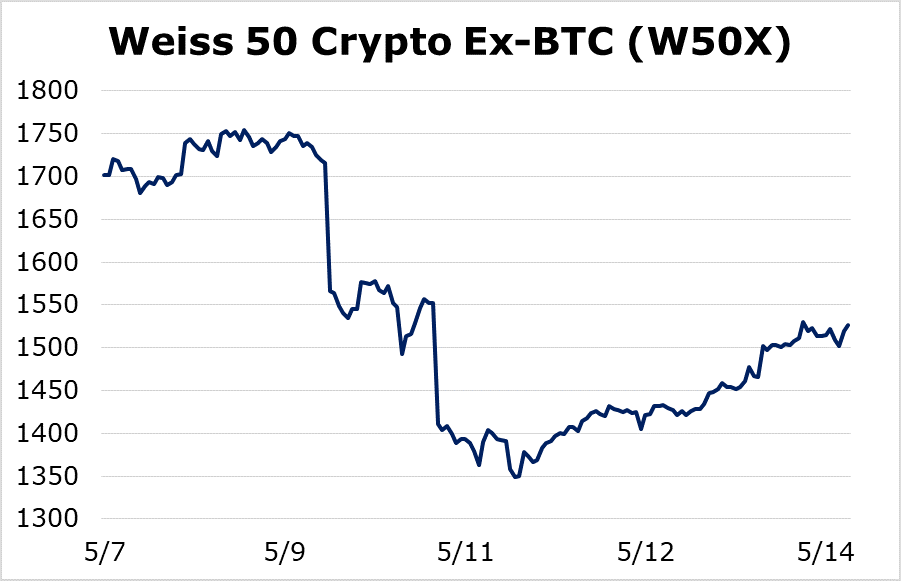 We see similar pictures across the spectrum when we split the industry by market cap.
The Weiss Large-Cap Crypto Index (WLC) ended week down 7.77%. And it, too, was down more than 20% on Monday.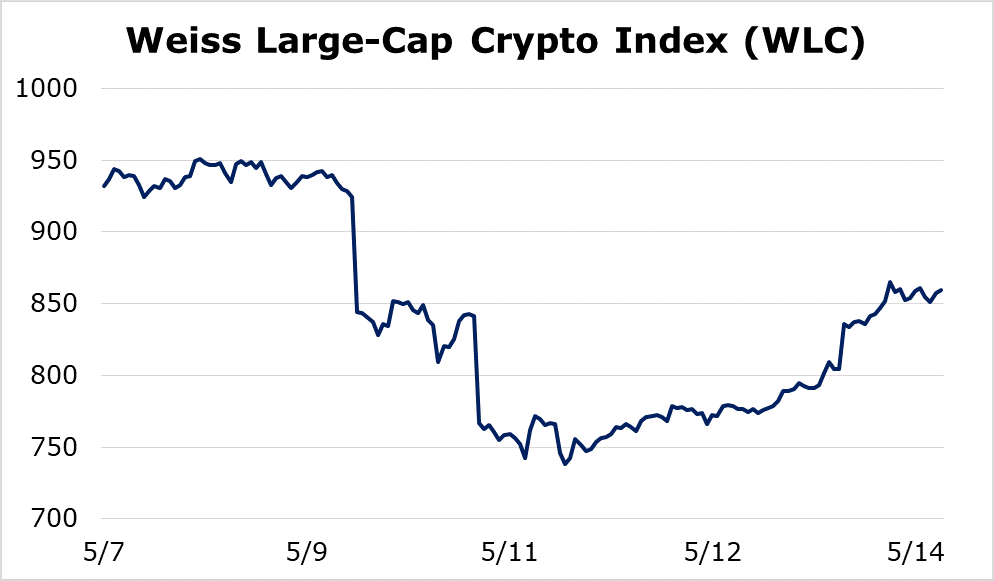 The Weiss Mid-Cap Crypto Index (WMC) finished the week down 8.18%, recovering from a 19% decline.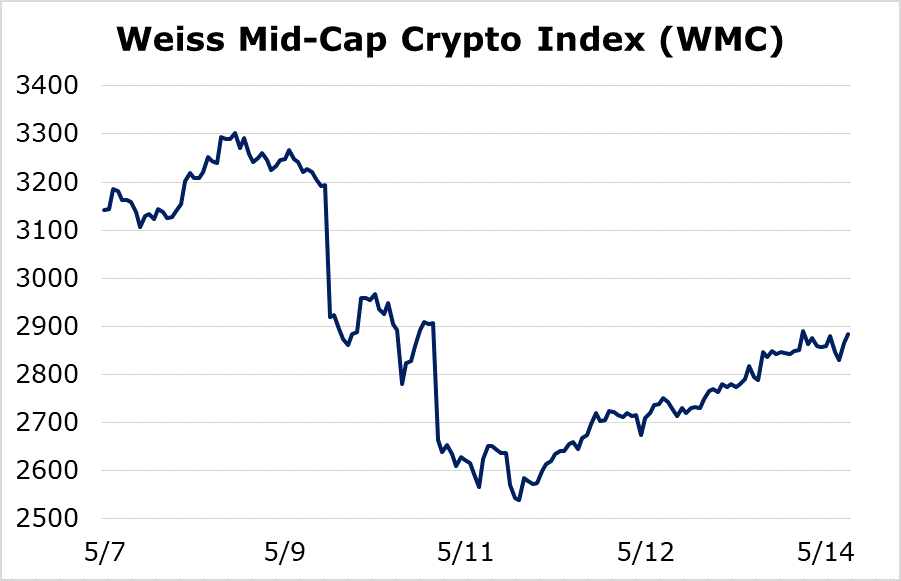 Finally, the Weiss Small Cap-Crypto Index (WSC) was nearly unchanged at -1.62%. It was down 19% on Monday.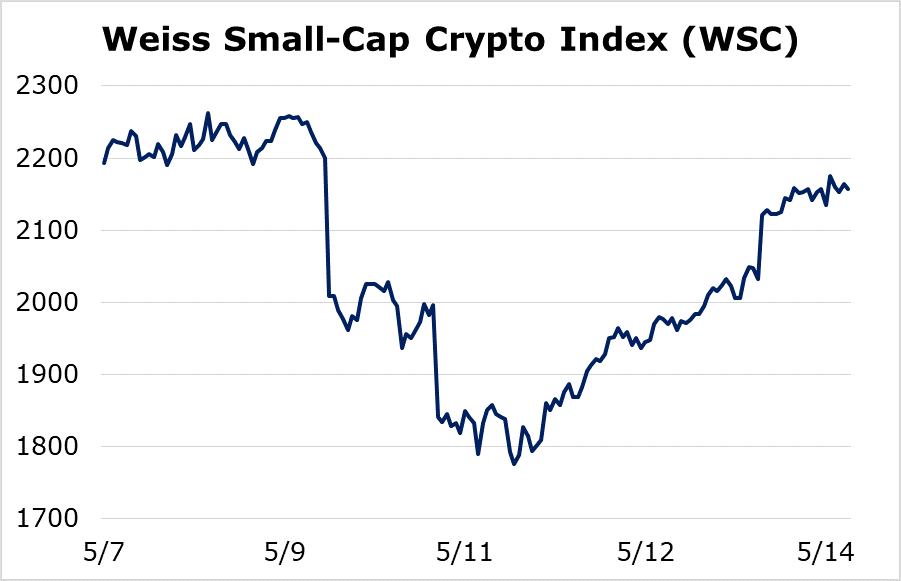 So far, market behavior looks a lot like what we've seen in the immediate aftermath of previous halvings: a lot of volatility, with no clear direction in the near term.
Over the long term, though, the two previous Bitcoin halvings provided tremendous boosts to crypto asset prices. And we have every reason to expect the same bullish price action over the next six to 12 months, particularly with the current fiscal policy and monetary largesse in the U.S. as financial and monetary backdrops.
Crypto assets have enjoyed a huge rally since "Black Thursday," when the industry lost half of its market capitalization in a single day. Valuations have more than doubled since early March, and our timing models suggest crypto markets are overbought at these levels.
At the same time, the correction we anticipate will set up a fantastic buying opportunity.
Best,
Juan
Weiss Ratings is the only financial rating agency that covers cryptocurrencies. Click here for more in-depth information about Weiss Crypto Ratings, including the Weiss Crypto Price Indexes and crypto-asset reviews.