Small Caps Lead Broad Crypto Gains as 'Crisis Correlations' Increase
By Juan Villaverde on June 19, 2020
Though it was marked by some serious intraday volatility, crypto assets posted solid gains during the seven-day trading week ended Thursday, June 18.
And the outperformance of a particular sub-index suggests the continuing expansion of the cryptocurrency investor base as awareness of this emerging alternative "safe haven" asset class grows.
The Weiss 50 Crypto Index (W50) — a broad benchmark of whole crypto market — moved up 3.32%. What's remarkable is the sharp, sudden midweek drop and the quick reversal that followed; more on this in a moment.
Note the exact same pattern on the Weiss 50 Ex-BTC Crypto Index (W50X): A midweek dip and sudden reversal. This sub-index ended the week up 3.83%.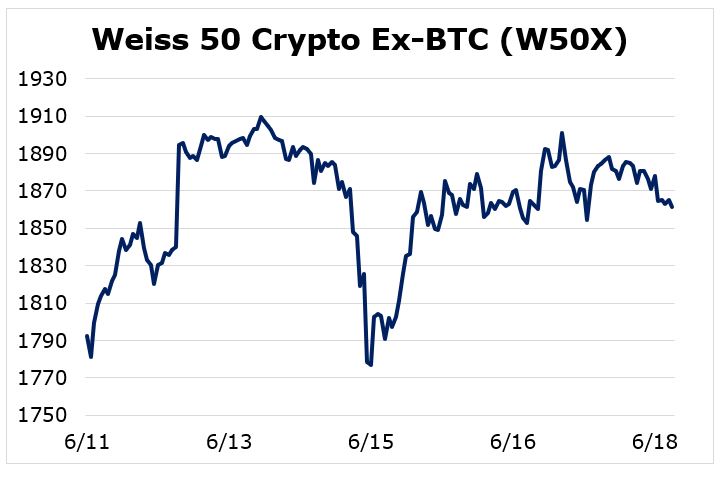 The Weiss Large-Cap Crypto Index (WLC) traded in line with the overall market, rising 2.88%.
The Weiss Mid-Cap Crypto Index (WMC) performed slightly better, posting a 4.71% rally for week ended Thursday.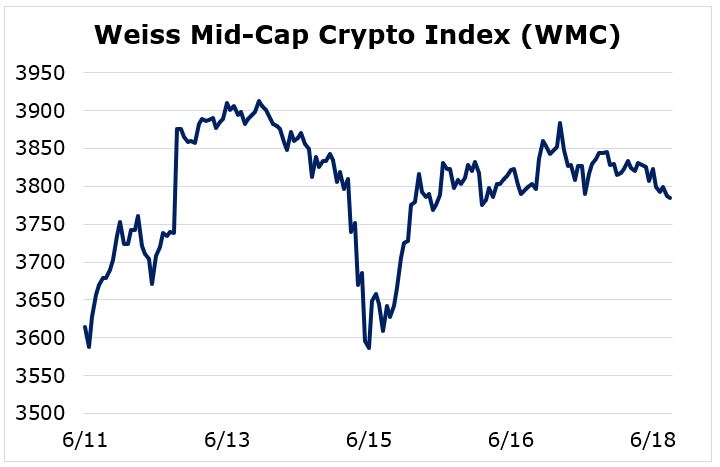 How, here's the outlier: The Weiss Small-Cap Crypto Index (WSC) finished the seven days up 12.95%.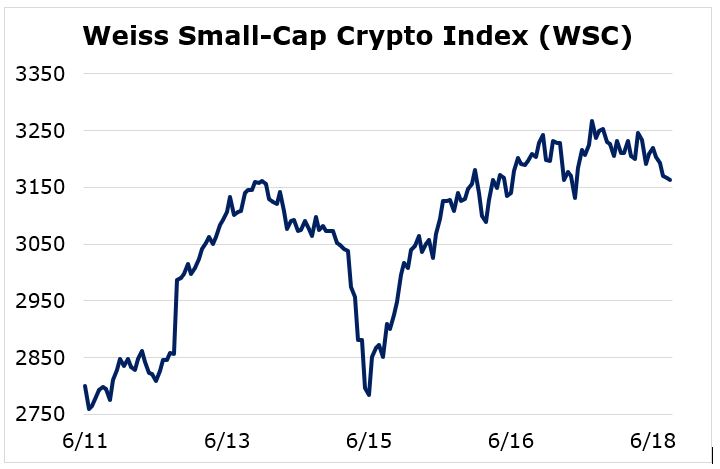 This "outlier" move by the small caps reflects renewed interest in speculative crypto assets on social media recently.
Now, let's talk about the increasingly notorious June 15 drop that caught all crypto assets.
This sharp move was followed by an equally sharp reversal. And it coincided with the price action we saw on equity markets this week. Gold, oil, the U.S. dollar and most major fiat currencies posted similar price action on Monday.
The message here is that there's still a lot of fear in global markets. Some attribute it to a "Corona Shadow" — the fear of a second wave of pandemic-related economic disruption.
Now, if there is another mad dash for cash — like we saw during the first quarter — we should expect another "correlation 1" event. That means prices of all asset classes move together when investors rush to liquidate everything.
With this recent experience in mind, consider the fact that our timing models suggest equities are due to experience another selloff. So, it's reasonable — prudent, even — to prepare for a shock in the weeks to come similar but probably not as intense as what we saw in March.
This correlation is odd given crypto's historical relationship with "traditional" financial assets since 2008. It reflects to some degree the notion that, in a crisis, you sell what you can.
The longer-term case for crypto continues to build, though, as awareness among investors and acceptance among consumers grows.
And its price will soon reflect the hard characteristics that differentiate it from the softer and softer money supported by governments around the world.
Best,
Juan
Weiss Ratings is the only financial rating agency that covers cryptocurrencies. Click here for more in-depth information about Weiss Crypto Ratings, including the Weiss Crypto Price Indexes and crypto-asset reviews.