This Is the Altseason We've Been Waiting For
By Sam Blumenfeld on April 01, 2021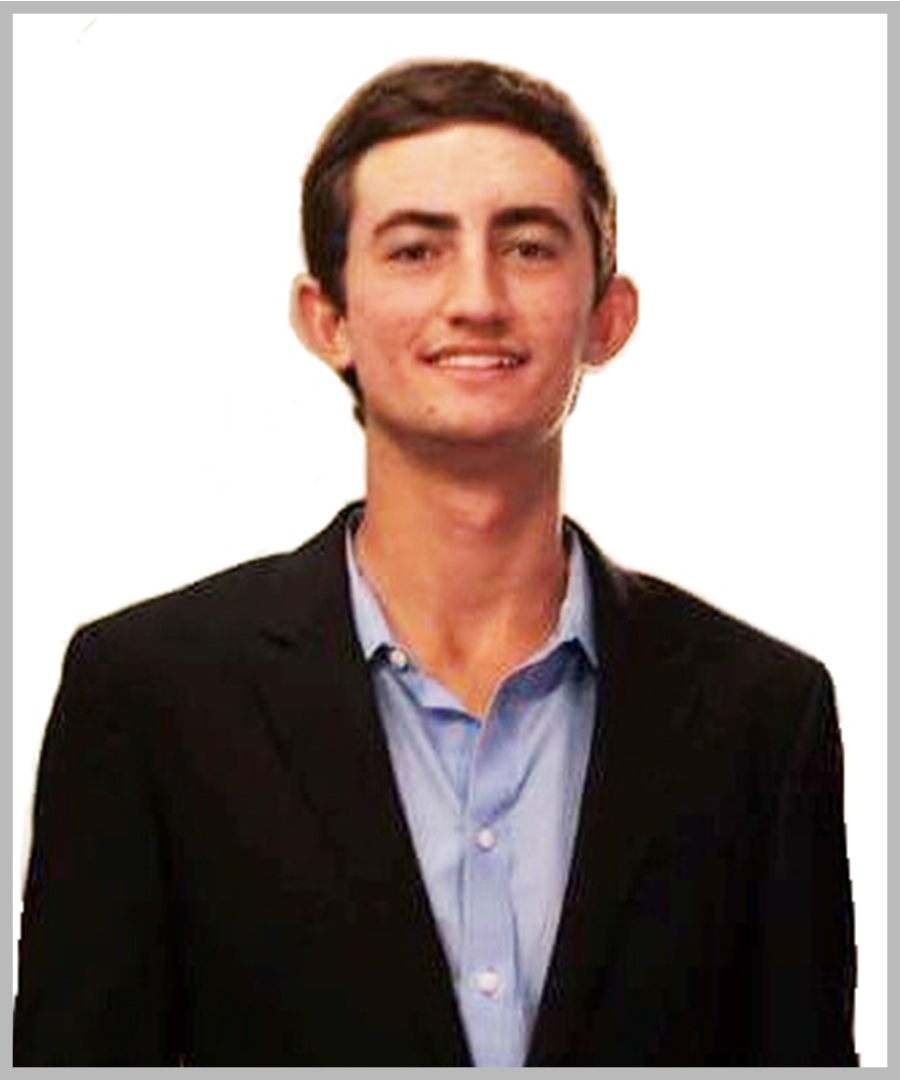 The two largest cryptocurrencies have regained their footing after a brief correction saw Ethereum trade below its 21-day moving average. Meanwhile, altcoins continue climbing higher as investors hunt for projects that could offer massive upside.
• Bitcoin (BTC, Tech/Adoption Grade "A-") is approaching the $60,000 price level as it looks to set a new high past $61,000.

• Ethereum (ETH, Tech/Adoption Grade "A-") is also eyeing a breakout past its previous high above $2,000.

• The Weiss Crypto Indexes were broadly higher during the six-day trading week through Thursday.
After an extremely positive week for the crypto market, let's see how our Weiss Indexes performed. This week's index data was cut one day short due to the Good Friday holiday, but there was no shortage of action.
The broader crypto market boomed, with very few exceptions. The six-day trading week saw almost all notable cryptocurrencies advance, and positive industry news helped improve market sentiment.
The most established cryptocurrencies made a big jump this week, although we saw a continuation of altseason, with less established projects rocketing at a swifter pace.
The Weiss 50 Crypto Index (W50) gained 17.21%, as almost the entire market made strong advances.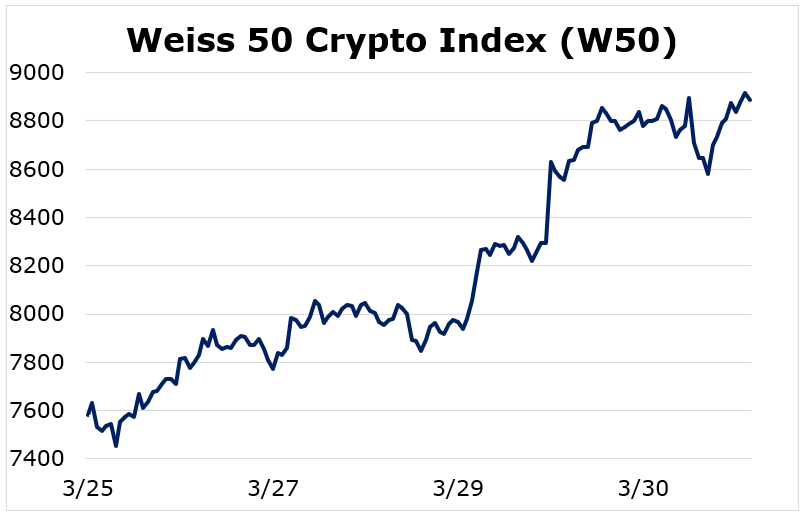 The Weiss 50 Ex-BTC Index (W50X) rallied 20.40%, showing the broader market slightly outpaced the King of Crypto.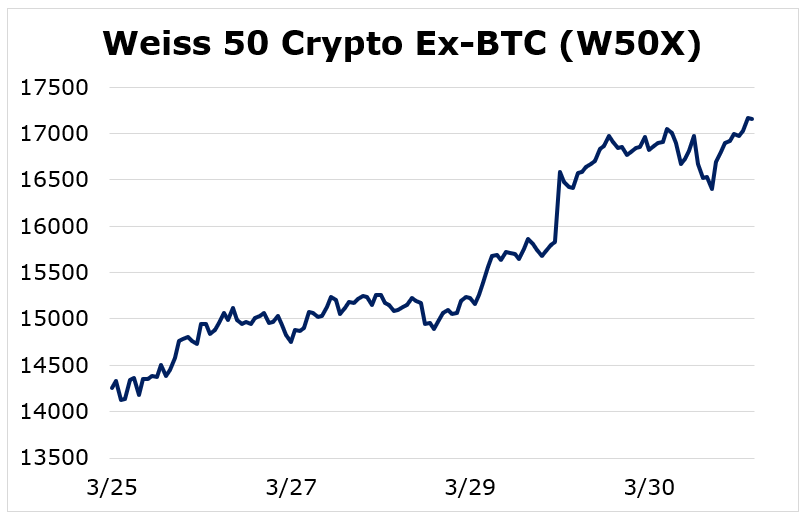 Breaking down performance this week by market capitalization, we see that cryptocurrencies of all sizes raced higher. However, the smallest cryptocurrencies exploded faster than their larger and mid-sized peers.
The Weiss Large-Cap Crypto Index (WLC) increased 16.31%, as the largest cryptocurrencies look to set new highs.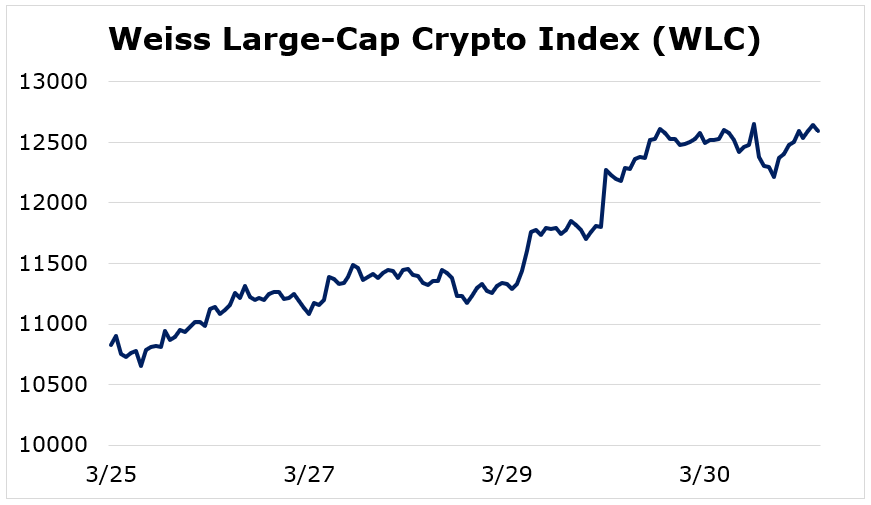 Mid-cap cryptos slightly outperformed the large-caps, but they still traded largely in line with them. The Weiss Mid-Cap Crypto Index (WMC) soared 22.71%.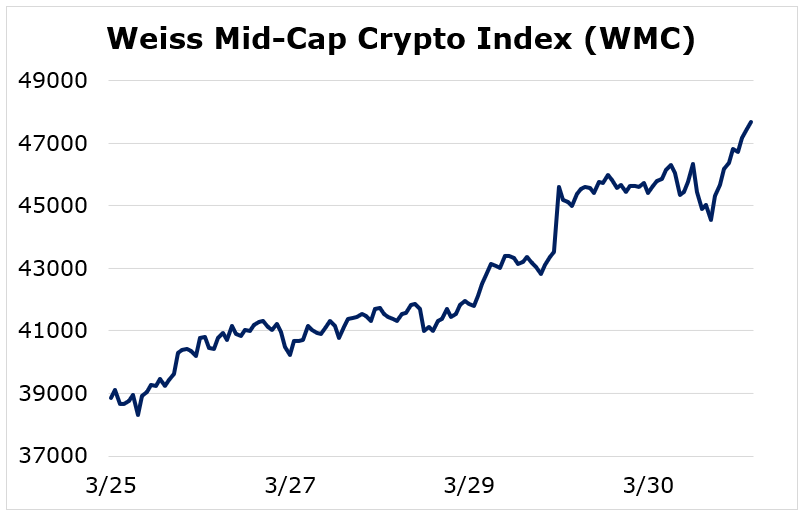 The small-caps were the biggest winners and lapped larger and mid-sized cryptocurrencies. The Weiss Small-Cap Crypto Index (WSC) skyrocketed 55.60% higher.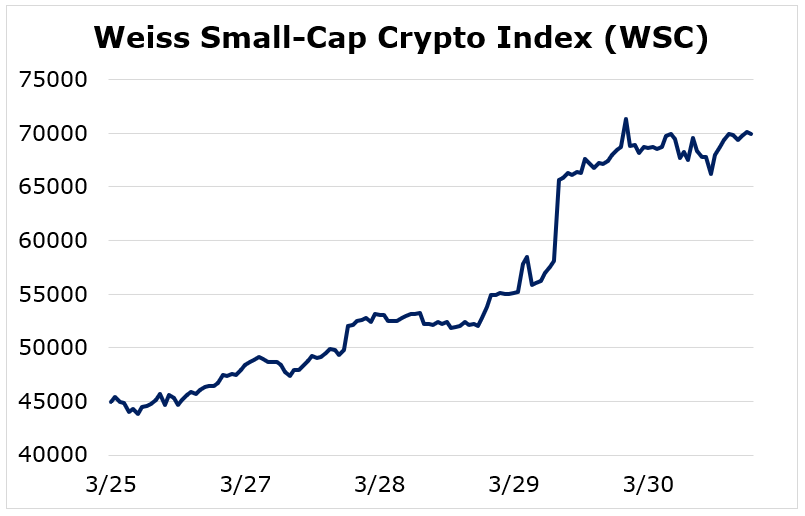 The performance of smaller and mid-sized cryptocurrencies shows that altseason is firmly taking off, but it may be an even better sign that the largest cryptocurrencies are advancing despite altcoins making flashier growth headlines.
Bitcoin and Ethereum are the most important trading pairs and, despite significant outflows into smaller projects, they still strongly progressed during the shortened trading week.
There are many bullish catalysts that can propel the King of Crypto to new heights, most notably the impending offerings to high-net-worth clients from wealth managers, surging institutional adoption and emergence as an asset on corporate balance sheets.
All these factors bode well for Bitcoin despite downward pressure from investors looking for outsized performance and diversification in altcoins.
It will be important to see if Bitcoin and Ethereum keep up this momentum, and new breakouts would be an especially bullish sign as we progress throughout altseason.
Enjoy the holiday. We'll return to using our standard trading data periods next week.
Best,
Sam