Why Singapore is Fast Becoming the Hub of the Blockchain Revolution
By Tony Sagami on November 18, 2019
Singapore is a LONG way from our Florida office, but Asia is the epicenter of the cryptocurrency and blockchain revolution. That is why I've traveled more than 10,000 miles from home: to attend BlockShow 2019, the largest blockchain conference in Asia.
The global blockchain market is set to grow at a compound annual rate of 74.5% between 2018 and 2023, according to Genesis Marketing Insights. And it names the Asia-Pacific region as the fastest-growing market for blockchain technology.
I learned a lot at BlockShow, and I'll tell you all about it next week. For now, I want to tell you why I am so impressed with Singapore and some of the opportunities I'm seeing over here.
Readers who follow my intercontinental search for new investment ideas frequently ask what my favorite part of Asia is. That's a tough question, because the answer depends on the perspective: Tourist or as businessman?
As a tourist, it is hard to beat the history and charm of Beijing … the natural beauty of Taiwan's mountains and beaches … the vibrant bustle of Shanghai … the stunning views of Hong Kong's Victoria Harbor … or the colorful culture of Thailand. Of course, I'll always be partial to Japan because I was born there.
But from a business and investment perspective, Singapore offers an unmatched combination of modern comforts, sophistication, cleanliness and an energetic enthusiasm for commerce.
No place on earth is like Singapore. And no place on earth may have as bright of a future. Here's why.
For centuries, traders traveling between the Indian Ocean and South China Sea have sailed through the Straits of Singapore. Its unique position as one of the primary commercial gateways to Asia makes it a key crossroad for global trade.
By the late 1800s, three developments had turned Singapore into one of the most important ports of call in the world:
The advent of the steamship
The opening of the Suez Canal in 1869
And the widespread adoption of rubber
Explaining how each of these factors bolstered Singapore's position is a whole story in and of itself. But suffice it to say that, by the close of the 19th century, Singapore was enjoying unprecedented prosperity.
The next major stepping stone came in 1965. That's when Singapore, by mutual agreement, separated from Malaysia. Its new status as an independent republic only furthered its powerful growth, which continues to this day.
With a population of about 5.6 million, the country generates $64,500 in per-capita Gross Domestic Product. For perspective, the U.S. only generates $60,000 per person of GDP. That's how powerful Singapore's growth engine is.
Moreover, Singapore also has a sky-high literacy rate of 95%, and the highest standard of living in Asia.
The World Bank calls Singapore "the world's easiest place to do business," and it has become a financial haven for the rich — especially from the Middle East and China — thanks to generous tax policies. Since 2004, Singapore has NO TAXES on capital gains received outside the country!
Get this: Singapore's economy has grown by an average of 7.7% a year since gaining independence from Malaysia in 1963.
The easiest way to profit from Singapore's growth is to invest in an ETF that is specifically indexed to Singapore: The iShares MSCI Singapore ETF (NYSE: EWS), which tracks the MSCI Singapore 25/50 Index of large- and mid-cap stocks.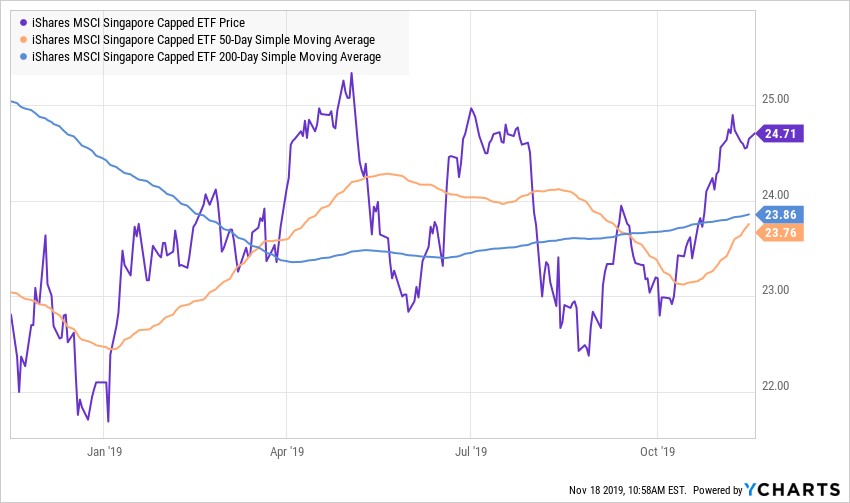 EWS is up 11.8% this year.
EWS is cheap, too, at only 12.8 times earnings, price-to-book of 1.2, and a dividend payout of 3.6%.
That doesn't mean that you should buy EWS tomorrow morning. As always, timing is everything. But I have no doubt that Singapore is one of the very best places in the world to invest your money.
Remember, come back next week for my report about what I learned at the BlockShow conference in Singapore.
Best wishes,
Tony Sagami